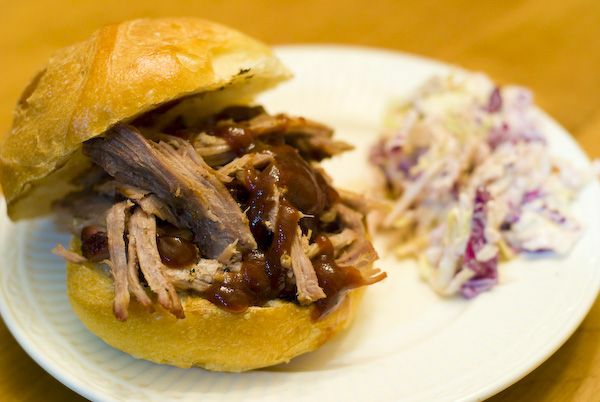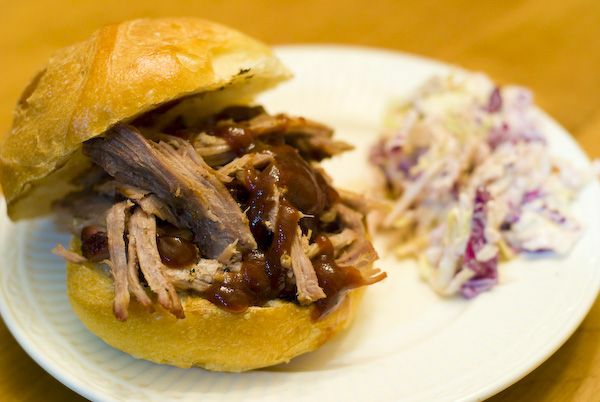 Pulled Pork Recipe
March 16, 2009
When I think of barbecue, I think of pulled pork sandwiches.  The fact that the meat has been cooked long enough to allow it to literally be pulled apart by hand is a signal of the time and attention someone put into cooking that for me.  One day, I too will have a legitimate smoker built out of an old refrigerator or something, but my wife would move out if I start one mor project!  So for now, I have to smoke my pulled pork in my gas grill.  It's ok though, it's actually a lot easier to set up.  When grilling meats like pulled pork over a long period of time, maintaining a constant temperature is key.  Using a grill with a 3 to 4 burner system makes this pretty easy.  Let's take a look at how easy delicious pulled pork sandwiches are to make on a gas grill.
Ingredients
1 bone-in Boston Butt (I like to get about a pound for every person I am feeding)
Wood chips, enough to make about 4 or 5 smoke pouches
2 tablespoons Dark Brown Sugar
Directions
1Soak all of your wood chips for at least 30 minutes, that will give us time to get everything set up for the grill.
2Mix together all of the seasoning to make our rub.  You can use other ingredients here, that's just my favorite combination for grilling pork.  Use the same ratio of Paprika and Dark Brown Sugar, but use a teaspoon here and there of whatever you think sounds good.
3Once all of the rub ingredients have been thoroughly mixed, rub it all over your Boston butt (for some reason, I still giggle saying or typing those words).  Make sure you cover the entire pork roast with the rub.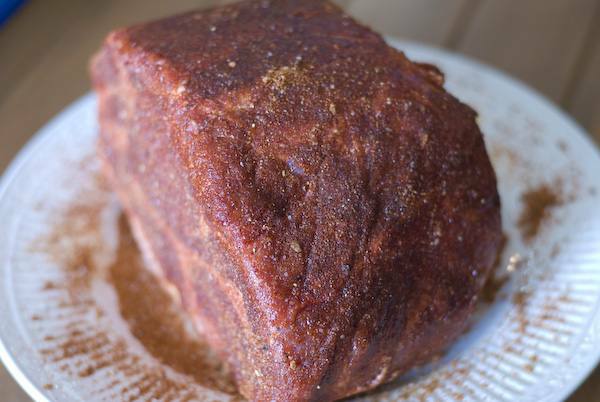 1Allow the pork to sit on the kitchen counter for about 30 minutes while we get everything else going.
2Heat the grill for indirect heating.  I've talked about this before, your grill may have a thermometer, but don't trust it.  Use an oven thermometer like I discuss in this post.  For a 3 to 4 burner grill, light the 2 outside burners on high heat and place the oven thermometer in the center of the grill.  Our goal here is to maintain around 325 degrees.
3While the grill heats up and our pork roast is getting aquainted with it's rub, assemble 4 to 5 smoke pouches.  We will need about that many to keep the smoke going for the duration of the cooking time.  Once you have the first ready, go ahead and place it over the hot part of the grill and close the lid.
4Once the first smoke pouch starts to smolder on the grill, it's time to start cooking.  Place the pork in front of the oven thermometer in the middle (cool part) of the grill.  Here's a photo of our setup (this was after a few other smoke pouches had done their thing, but you get the point):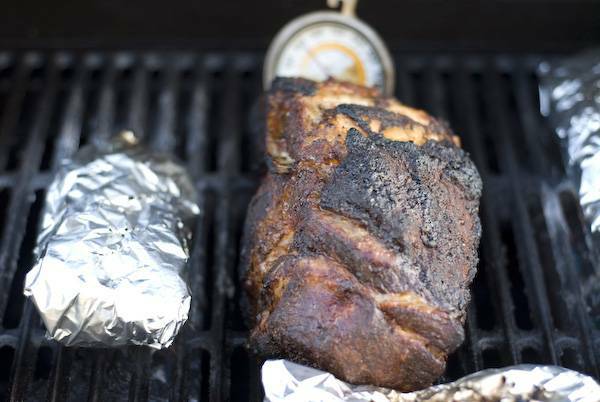 1Now here's the easy part, turn the oven thermometer so that you can see it through one of the holes on the side of the grill and just close the lid.  We are going to let the rub, fire and smoke do it's thing for a long time, so just leave it alone.
2Look through the holes on the grill periodically to see if you are still in that magic 325 degree range.  Adjust the burners accordingly.  Also, once you start to see the smoke slowing down on one smok pouch, just add another.  You'll probably end up adding a new pouch every hour to hour and a half.
3After about 4 hours, check the temperature of the pork roast by inserting an instant-read thermometer in the thickest part of the roast.  We are looking for a temperature around 190 - 195 degrees.  You will notice that the meat starts to pull away from the bone and you can wiggle the bone more and more as you get closer to 190 degrees.  At 195 degrees, the bone will pretty much pull our of the meat with little effort.
4Once your meat has reached 195 degrees, remove the boston butt (pork roast) from the grill and place on a platter to rest.  You will need to give it a good 30 minutes or so before you can even think about handling the meat on the inside.  After about 15 minutes, I like to cut it in half to help the middle cool off.
5Once cool enough to handle, begin to pull the meat apart using your fingers and/or 2 forks.  This is why they call them pulled pork sandwiches!  Pull all of the pork apart and place the meat on a separate platter.
That's all there is to it!  You just smoked a pork roast or boston butt on a gas grill.  Toast some good buns, add a little of your favorite barbecue sauce and serve with some homemade coleslaw.  This is the way God intended us to enjoy swine, pork cooked so slow and low that it just pulls off the bone.  Pulled pork sandwiches are always just a few hours, some wood chips and a little love away from your dinner plate.  Heaven on a bun...
1 Review