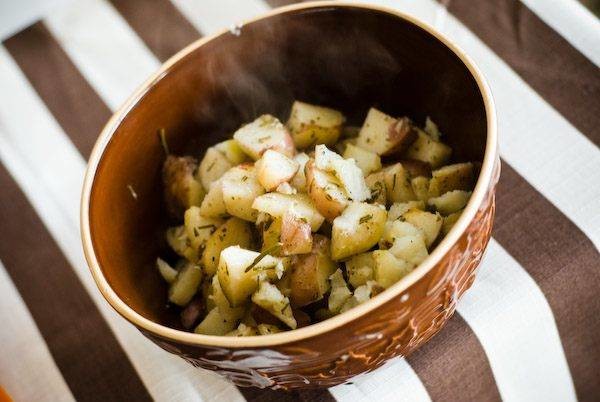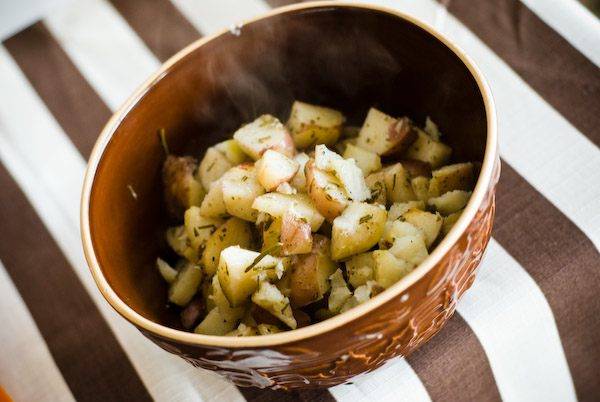 Ok, this is an easy one.  So easy, you can package these delicious red potatoes up, stick 'em on the grill and concentrate on your protein grilling.  They won't require any of your attention until you are ready to eat, assuming it takes about 15 or 20 minutes to prepare everything else.  What I'm trying to say is that grilling red potatoes are about as low-maintenance-grilling as you can get.  Side dish anyone?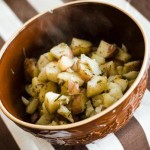 Print Recipe
Red Potato Recipe
Delicious rosemary red potatoes on the grill. The perfect side dish to whatever else you are grilling.
Ingredients
1

pound

red potatoes

3

rosemary sprigs

minced

Kosher salt

ground black pepper

olive oil

heavy duty aluminum foil
Instructions
Wash and pat the red potatoes dry and then cut into 1 inch by 1 inch cubes.

Toss the potato cubes in about 2 tablespoons of the olive oil.

Sprinkle with the salt, pepper and rosemary and toss again to coat evenly.

Rip off about a 2 foot section of the aluminum foil and pile the red potato cubes in the middle and then fold in the sides to make an air tight pouch.  We want the potatoes to steam, so get it closed tightly.

Repeat the process and make as many pouches as needed to house your red potatoes.

Heat the grill to medium-low heat.  If you are grilling something else on a higher heat already, no sweat.  Just stick the potatoes on a cooler part of the grill or on an elevated rack.  The worst that can happen is that the bottom layer of potatoes will sacrifice themselves so that the others are cooked perfectly (I like them a little charred anyway).

Place the pouches on the grill and close the lid.

Allow the potatoes to cook for about 15 minutes and then CAREFULLY peel back the foil on a pouch and fork-test a potato or two.

Continue until they are cooked all the way through.