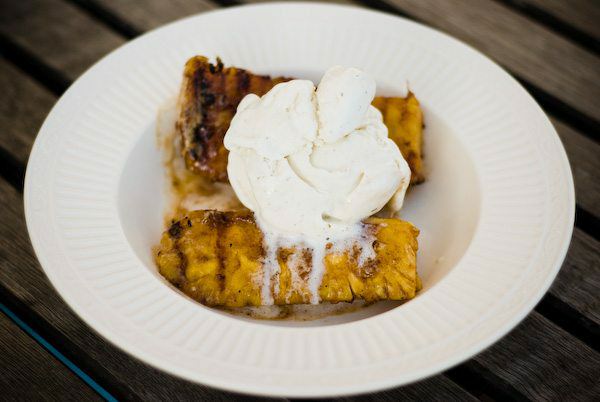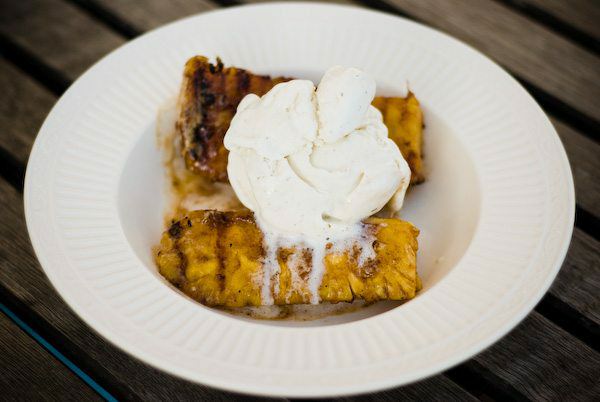 Grilled Pineapple with Brown Sugar Glaze
October 5, 2009
Up until this point, we have only covered a few dessert recipe on GrillingCompanion.  Let me reassure you, we haven't purposely been ignoring desserts.   I certainly haven't excluded them from my daily consumption, so I wouldn't  propose we not cover desserts on the site!  It's just that we spend so much time grilling, taking photos and writing up other grilling recipes that we never seem to get to dessert.  Well, that is changing today!
The inspiration for this recipe came from one of our readers, Bill from Atlanta.  Bill suggested we try grilling pineapple and also suggested that we fire up some Rum to finish it off once it comes off the grill.  I will definitely be trying that, but I didn't have any Rum and my back yard is pretty dry these days from lack of rain.  I can just see me setting the whole thing on fire while trying to burn off the Rum.  I promise I will get the courage up and try it though Bill, sounds delicious.  Keep the suggestions coming!
For this grilled pineapple recipe, I decided to throw together a quick glaze that I could use to baste the pineapple while it cooked on the grill.  The idea was to create a great layer of brown sugar and cinnamon to really bring out the sweetness of the pineapple.  There are few better ways to enjoy grilled fruit than to serve them with ice cream, so I used this as an excuse to eat some vanilla ice cream in the middle of a Sunday afternoon (why do I feel I have to wait until after dinner all the time??).  Enough with the intro, the ice cream's melting...
Directions
1Glazed Grilled Pineapple Over Ice Cream. Preheat the grill to medium heat for direct grilling.  I found that high heat created a little too much burn caramelization, so stick with medium...
2Combine the butter, brown sugar and cinnamon in a small pot on the side burner of your grill (or stove inside).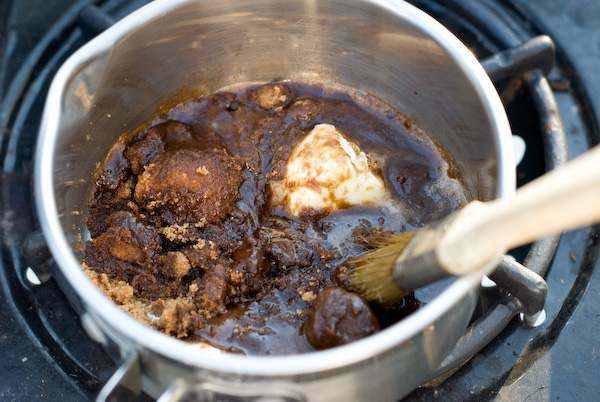 1Heat the butter, brown sugar and cinnamon over medium-low heat stirring constantly until all of the brown sugar has melted and then turn down to the lowest temperature.  You can even turn the burner off at this point, we can warm it up when we are ready to brush onto the pineapple.
2Place the pineapple slices or rings on the grill.  Do not put the glaze on yet, we want to grill them just a bit first.
3Grill the pineapple for about 2 minutes and then flip over to the other side.
4At this point, warm up your glaze if it has solidified, stirring well to combine.
5Now brush some of the glaze onto the pineapple slivers and close the grill's lid and grill for 2 minutes.
6After 2 minutes, flip the pineapple over to the other side and again brush with glaze and close the lid for another 2 minutes.
7Remove the pineapple from the grill and transfer to a bowl (a BIG bowl that will hold a lot of ice cream!).
8Scope some of your favorite vanilla ice cream right on top of the warm pineapple and enjoy!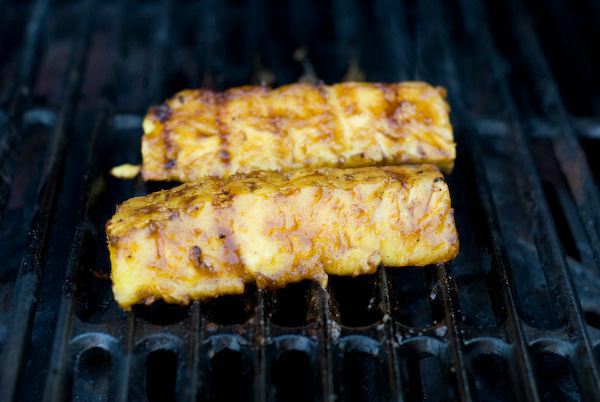 1 Review