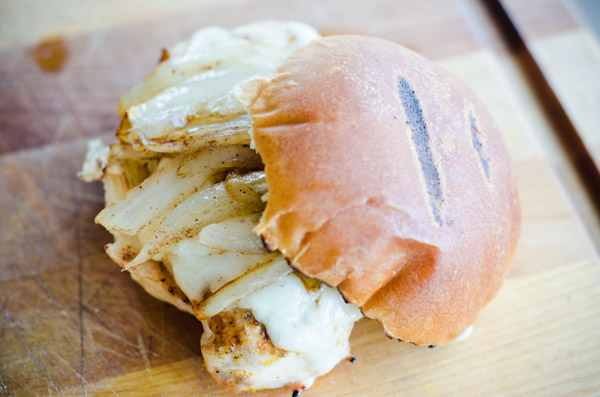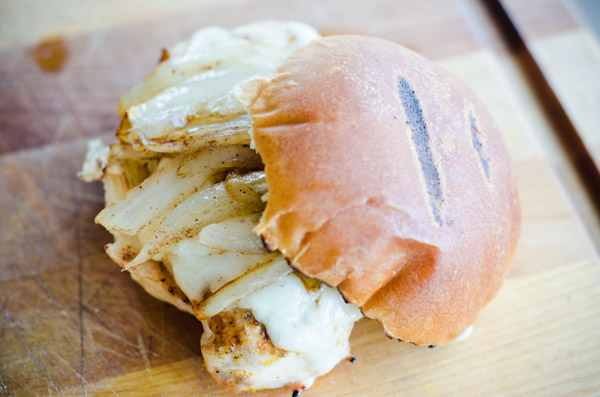 Grilled Chicken Sandwiches with Gruyere and Caramelized Onions
September 21, 2014
Break out the poncho and don't worry about wiping your mouth until you are finished because this sandwich is unbelievably delicious AND messy. Gruyere is an interesting cheese that I can't seem to describe without using my 5 year old's term for it, "funky"…in the most loving way possible. He has a point, it does smell funky when melted, but it melts up really gooey and delicious and works really well with the sweet onions and garlic of the aioli. I recommend recruiting an assistant for this one too because there is a lot of work to be done. Not really, I just hate caramelizing the stupid onions, so I make it seem like I am really busy at the grill so my wife takes responsibility for not burning the onions.
Prep: 20 mins
Cook: 15 mins
Directions
1Did you see that part about grating the gruyere? Just wanted to make sure, otherwise, you will still be trying to melt it while the chicken breasts turn to jerky.
2If present, trim all of that nasty fat off of the chicken breasts and then pound the fat part of the breasts down a little to make the entire chicken breast (almost) a uniform thickness.
3Preheat the grill to medium high.
4Get someone else to slice the onions and put them in charge of caramelizing them without burning (did I mention I hate this step?).
5Brush the chicken breasts on both sides with olive oil and season with a little Kosher salt and black pepper, then place on the grill.
6Combine all of the aioli ingredients and whip it. Whip it good. Seriously. You must whip it.
7Grill the chicken breasts over medium-high heat until cooked halfway through. Side note. Ever wonder why your chicken breasts stick to the grill? Because you mess with them too much! Let them cook through and they will "release" from the grill naturally. Here is what they will look like when it is time for the tongs: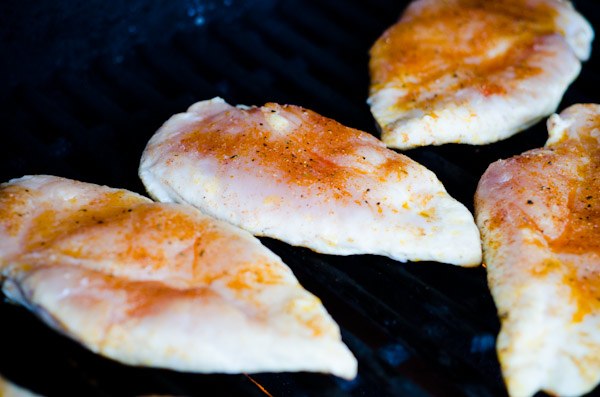 8Flip the chicken breasts and pile the grated gruyere on the already grilled side (now the "up" side). The cheese should now have just enough time to get all melty and delicious while the chicken finishes cooking.
9Once the cheese is melty (and funky) and an instant thermometer reads 165 in the middle of the chicken breast, you are done.
10Toast your buns while the breasts cool slightly and then build your sandwiches with a healthy amount of the caramelized onions and aioli.
11Serve with a roll of paper towels.
1 Review