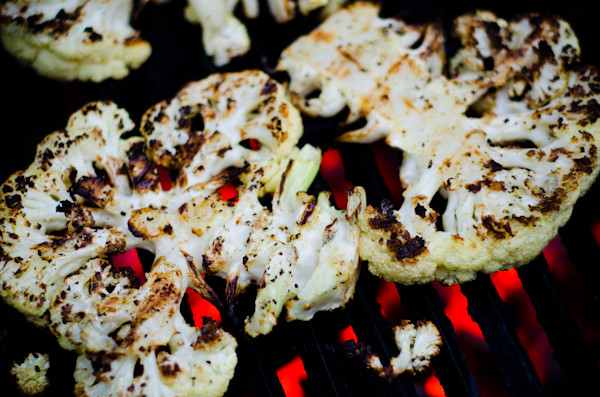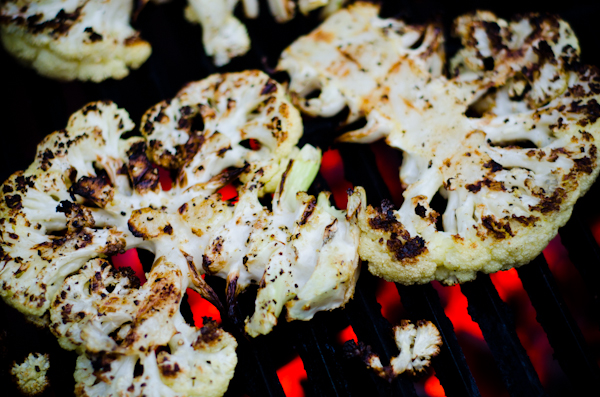 I'm running about 5 pounds over my "playing weight" this week from all of the Holiday refreshments, so I needed some healthy options for the grill. I've heard people state that a grilled cauliflower steak makes a satisfying alternative to meat as a main dish, but I've remained pretty skeptical up until this point. That is, until I actually tried it. I have to say, they are delicious and were a big hit with the whole family, including the kids.
The "steak" part of this grilled cauliflower recipe really comes from the presentation of the slabs of cauliflower you get when you cut the cauliflower. However, don't forget to throw all of the other chunks and florets onto the grill because they are amazing as well. I've seen a lot of crazy spice concoctions for cauliflower steaks, but I think they are awesome just with a little olive oil, Kosher salt and fresh black pepper. I'll try some other spice mixtures at some point, but lets keep it simple for now.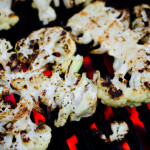 Print Recipe
Grilled Cauliflower Steak
I was skeptical too, but a grilled cauliflower steak is actually a great alternative to meat as your next main grilling dish
Ingredients
1 head of fresh cauliflower

olive oil

Kosher salt

fresh ground black pepper
Instructions
Remove all of the leaves from the cauliflower, but make sure you don't damage the bottom (stalk) because we will need that to hold things together for us on the grill.

Starting from the top of the cauliflower (the top of the "tree"), use a large knife and cut 1 inches slices all of the way down through the stalk.  This should give you 2 or 3 nice cauliflower steaks to grill and some chunks of florets to throw on the grill as well.

Preheat the grill to medium high heat.

Brush all sides of the cauliflower steaks and florets with olive oil and sprinkle with a generous amount of the Kosher salt and black pepper.

Place the cauliflower on the grill and grill with the lid closed for 5 - 7 minutes.

Turn the cauliflower and continue grilling for another 5 - 7 minutes on the other side.

These times are approximate obviously, we just want a nice char on each side (yummy) and grill until each grilled cauliflower steak and the florets are tender.