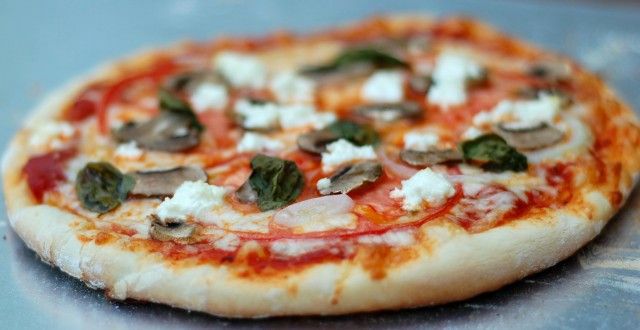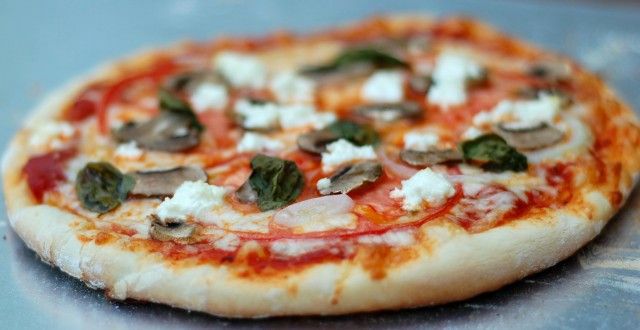 Gourmet Pizza on the Grill
November 25, 2008
We decided to break out the VillaWare Pizza Grill for another round of grilled pizza, this time with a gourmet pizza.  Our gourmet pizza has fresh tomatoes, roasted garlic, onions, mushrooms, mozzarella cheese and whole basil leaves picked straight from our garden.  We topped it off with gooey, globs of goat cheese.
Ingredients
Pizza dough (a little bigger than a baseball for a 12 inch pizza). Most grocery stores carry pre-made pizza dough, look for it in the bakery department.
1/4 to 1/2 cup of marinara sauce depending on how saucy you like it.
1cup of mozzarella cheese (add other cheeses if you want!).
A few tablespoons of all purpose flour so things don't stick.
6 to 10 basil leaves from the garden
2 thin slices of a large onion
4 thin slices of a ripe fresh tomato (hopefully home grown)
2 large white mushrooms, sliced
Directions
1Roasted garlic. Roasted garlic is sooo easy to make, why wouldn't you add it to your pizza.  The roasted garlic and the goat cheese are what make it "gourmet", so for this recipe, you really don't have a choice!  Add the garlic cloves, unpeeled, to a small ramekin.  Drizzle the olive oil over the garlic and the sprinkle with a bit of salt and pepper.  Cover the ramekin with aluminum foil.  Pop it into a 400 degree oven for 15 to 20 minutes (Yeah, we know, an oven on a grilling web site!)  Once cooked, the skins can be easily removed.  Remove the skin and dice the garlic and return to the olive oil in the ramekin until ready to use.
2Roll the dough. If you are using dough from a store, make sure you let it come to room temperature, leave it out of the refrigerator for about an hour before you try to roll it out.  Flour your rolling surface liberally to keep the dough from sticking.  Once rolled out into a perfect circle (or not so perfect oval), we like to give the edge a pinch all the way around to put a lip on the crust.  Move your dough onto the pizza peel or your cookie sheet.
3Top it off. Add the sauce and spread it out evenly.  Sprinkle the shredded mozzarella over the pizza.  Add the tomatoes and onions.  Sprinkle the roasted garlic and olive oil over the pizza.  Next come the sliced mushrooms and basil leaves.  Finally, add the globs of goat cheese.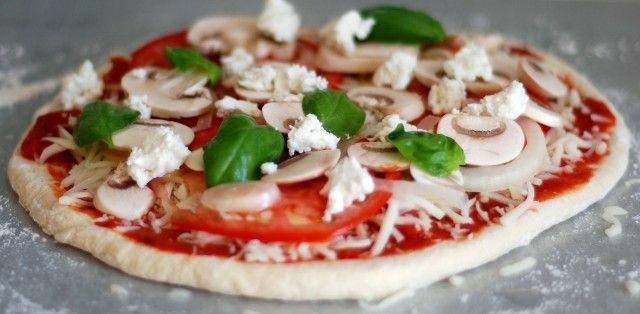 1Grill it. Once the Pizza Grill is ready, add the pizza.  Cook according to the VillaWare instructions.
2Remove from the grill and cut and serve.
This pizza turned out great.  The crust was perfectly crispy and the roasted garlic, onions, basil and goat cheese complemented each other perfectly.  Gourmet pizza on the grill and a nice cold beer make a great weekend lunch or dinner.
1 Review