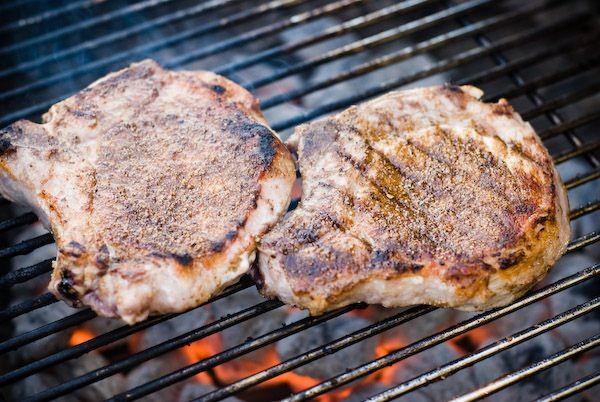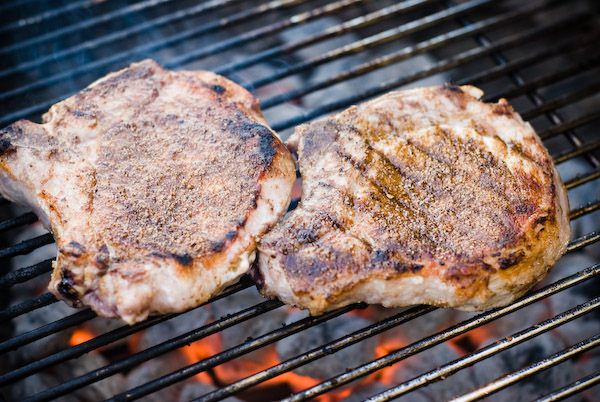 Coriander is one of those spices that usually gets neglected and ends up in the back of my spice cabinet.  I think coriander and I got off on the wrong foot when I heard people refer to it as having an "earthy" flavor.  I don't know about you, but the only time I can excuse "earthy" is during those rare 5 second rule drops at a tailgate party.  Once I started to experiment with coriander, I found that it actually has a nice lemony flavor and it is a great compliment to the smokiness of cumin.  So today we bring you this great combination and challenge you to try this often overlooked spice.  I love this rub and it is probably my favorite pork chops recipe (this week at least).  It fits right into my favorite "always have the ingredients in the cabinet" recipe box too.  Let's get to it.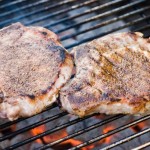 Print Recipe
Coriander and Cumin Rubbed Pork Chops
Grilled pork chops with a simple coriander and cumin based rub.
Ingredients
1

tablespoon

coriander seeds

1

tablespoon

Olive Oil

1

tablespoon

cumin seeds

not powder

1/4

teaspoon

Kosher salt

1/4

teaspoon

black peppercorns

2

bone-in pork chops
Instructions
Light your grill and heat to high.

Place the coriander and cumin seeds in a pot or shallow pan and toast over medium heat until fragrant (meaning you can smell the spices, but don't burn them!).  I like to toast them right on the grill while the grill is heating up.

Remove the pan from the heat and carefully pour the seeds into a coffee grinder (one of the great multitaskers of the kitchen), add the peppercorns and salt and then grind the mixture into a powder.

Pat the pork chops dry and then coat them with a thin layer of olive oil and transfer to a plate.

Rub both sides of each pork chop down with a generous amount of the rub.

Once the grill is ready, place the pork chops on the hottest part of the grill and sear for about 2 minutes.

Using tongs, rotate the chops 45 degrees and then grill for another 2 minutes.  We're after a good sear on each side of the chops.  During this time, watch for flare ups from the fat.  If the flare ups last more than a few seconds, move the chops away from the flame until it goes out and then place them back on the hot part of the grill.

Once you have a nice seared crust on the first side (around 4 minutes total on a hot grill), flip the pork chops over to the other side.

Grill another 2 minutes, rotate 45 degrees and grill for another 2 minutes.

If your grill was hot enough and the are relatively thin (less than an inch), they should be done after about 8 minutes total.  If your pork chops are thicker than 1 inch, move them over to the cooler side of the grill after searing (or turn down the heat) and continue cooking with the lid closed until they are done.

All grills and pieces of meat are different though, so these times are approximate.  Just don't overcook the pork chops!  You can always throw it back on for a few minutes if it's not cooked to your guest's liking, but you can never rehydrate that overcooked hockey puck.