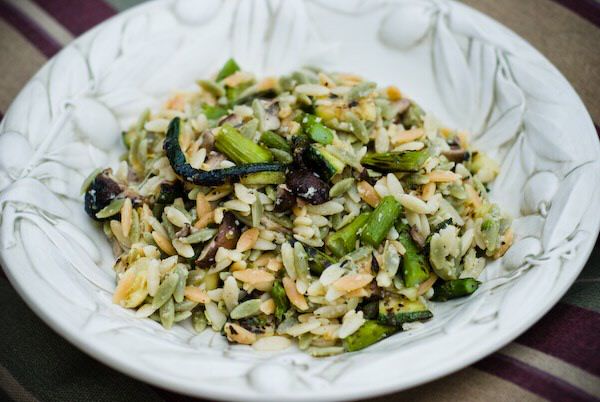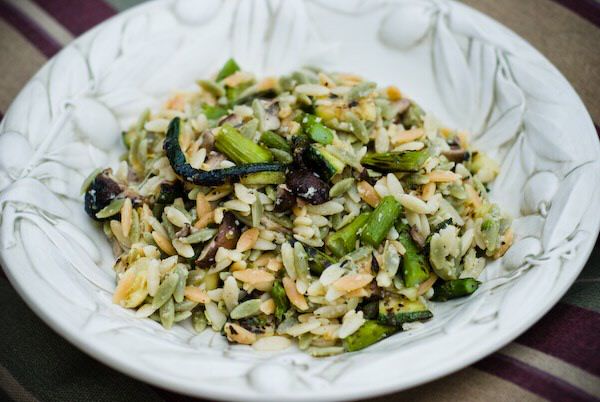 Orzo with Grilled Vegetables
July 7, 2010
I doubt anyone in attendance at our July 4th cookout would challenge the claim that I ate my weight in grilled corn, hamburgers, hot dogs and potato salad.  Those competitive eaters had nothing on me this past weekend.  As always, a feeling of guilt washed over me the next day and the only way to feel better was to eat light for the next few meals, so I skipped the meat aisle at the grocery store and went right to the produce section.  So today I bring you a great recipe that is both healthy and satisfying.  Orzo with grilled vegetables is a great meat-free recipe that can be served as either the main meal or as a side.  If you had a gluttonous weekend like me, get back in the gym, stop by the produce stand on the way home and let's go veggie for a night.
Prep: 15 mins
Cook: 30 mins
Yields: 4 Servings
Directions
1Bring a pot of water to boil and cook the orzo according to the package to al dente (in other words, not mushy, with a little "bite" left in the pasta).  Drain well and transfer to a large bowl.
2Meanwhile, heat the grill to medium high.
3Cut off the ends of the asparagus (not the leafy looking part, the other end!) and then slice the zucchini into long slices about 1/4 - 1/8 inch thick for easy grilling.
4Place the zucchini and asparagus in a bowl and toss with Olive Oil, salt and pepper.
5Place the baby bella mushrooms on a skewer, brush with Olive oil and season with salt and pepper.
6Move all of the veggies to the the grill and grill over medium-high heat, turning often until you have some nice grill marks.  The asparagus and zucchini should only take about 2 - 3 minutes per side, longer if you like them really soft.
7-+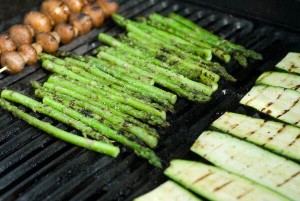 8Remove the vegetables from the grill and place on a cutting board, allow to cool slightly.
9Slice all of the vegetables into bite-sized pieces, as small as you care to go and then add the vegetable to the bowl of orzo.
10Add the zest of one half lemon and a half cup of the Parmesan cheese (more to taste if you like) to the bowl of orzo and grilled vegetables and toss well to coat.
0 Reviews