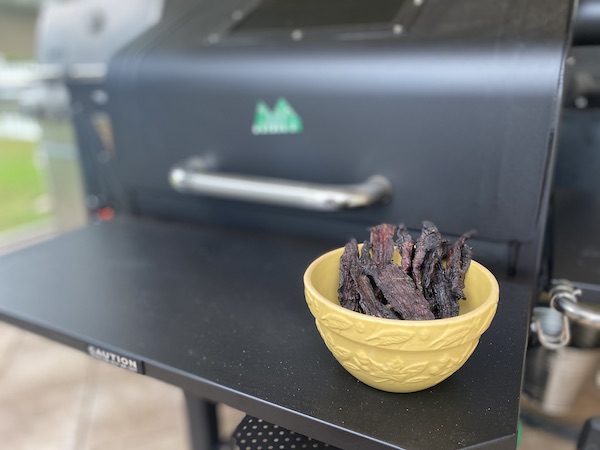 Beef Jerky is my favorite "protein bar" and an easy recipe for beef jerky was the first thing I experimented with when I purchased a new pellet grill. The pellet grill's ability to maintain 165 degrees for 10 hours made this super delicious beef jerky super easy.
Choose your Beef Cut
For my first attempt at beef jerky, all I could find was flank steak. The flank steak made for a great jerky, but it was a little expensive. I found a nice, lean eye of round for my next "round" of beef jerky and it was every bit as good, but cheaper. When looking for the right cut of meat, look for very little fat or trim it before you marinate. Nobody wants to check on an all-fat stick.
With the Grain or Against the Grain
Every cut of meat has a "grain" running through it. You can see it when you handle the meat, just bend it around and look for which way the lines run. Cutting "with the grain" means just that, you are slicing in the same direction of the grain. Doing so produces a chewier beef jerky, which I actually prefer. Cutting against the grain will product a much more tender beef jerky result.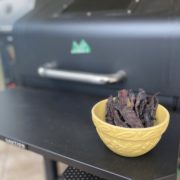 Print Recipe
Easy Beef Jerky Recipe
If you have a pellet grill or an electric smoker, you can easily make your own beef jerky. Smoky, delicious, portable meat snack.
Ingredients
3

pounds

flank steak or eye of round

1/2

cup

low sodium soy sauce

2

tablespoons

Worcestershire sauce

2

teaspoons

ground black pepper

1/2

teaspoon

garlic powder

1

teaspoon

onion powder

1

teaspoon

seasoned salt
Instructions
Put the beef in the freezer for 30 minutes, 60 minutes for a bigger beef cut like eye of round. This is going to make it much easier to slice.

Slice the flank steak with the grain in 1/4 inch thick slices.

Mix the rest of the ingredients together and pour into a gallon size resealable bag.

Add the flank steak and squeeze out the air in the bag.

Marinate in the refrigerator for 12 hours.

Light the pellet grill and set the temperature to 165 degrees.

Remove the flank steak from the marinade and arrange in a single layer on the grill.

Close the lid and smoke the beef jerky on the pellet grill for 8 – 10 hours.

Check it at 8 hours. If you like your jerky drier, just continue to cook until you get it to your liking.
Nutrition
Calories:
495
kcal
|
Carbohydrates:
6
g
|
Protein:
75
g
|
Fat:
17
g
|
Saturated Fat:
7
g
|
Cholesterol:
204
mg
|
Sodium:
1908
mg
|
Potassium:
1299
mg
|
Fiber:
1
g
|
Sugar:
1
g
|
Vitamin C:
1
mg
|
Calcium:
90
mg
|
Iron:
6
mg