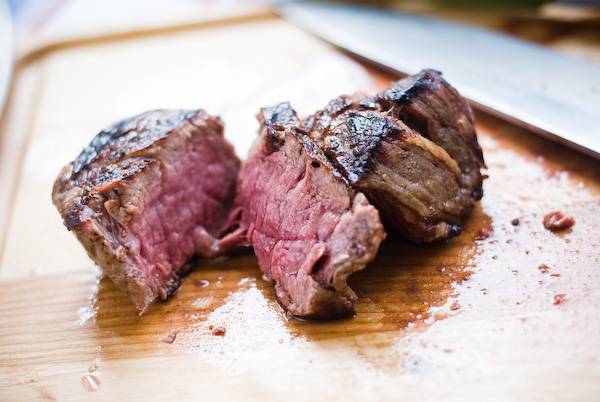 I'd like to play it cool, be a food snob and say stuff like "we get beef all of the time, big deal". I'd be lying though. What self-respecting carnivore wouldn't be completely giddy when they got a text from your wife saying "it looks like someone just delivered an entire cow to our house".  I finished what I had to do and got home as quickly as possible.  Sure enough, there it was in the dining room, a styrofoam cooler containing frozen morsels of meat in all shapes, cuts and sizes packed in dry ice for the long journey from Nebraska to the Sunshine State.  This was going to be a good weekend.
Nebraska Star Beef Quality
Nebraska Star Beef sent us our delicious beef package and sponsored this review.  The owners spent about 10 years helping Whole Foods Market develop their natural beef program.  They then went off on their own to start Nebraska Star Beef so they could provide those same quality  Natural Angus and Wagyu beef products to other consumers via their web site.  Their beef is all natural by USDA standards, but they actually go quite a bit farther than that with the cattle that they source.  Their "pure promise" guarantees that their beef is free of hormones, steroids and antibiotics and also guarantees that they maintain the highest standards of animal husbandry.  Check out this video to see how their cattle are raised.  If I didn't know the end result, I wouldn't mind being a cow on that beautiful ranch.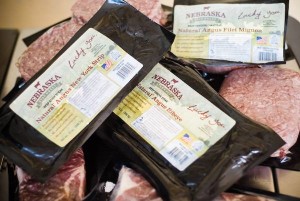 Packaging
The first thing I noticed while unpacking my new beef treasure chest was how each of the steaks were individually vacuum-sealed and then frozen.  Perfect for the freezer, because I can thaw just as many as I need for that cookout.  When steaks are frozen this way, they thaw really easily overnight in the refrigerator.  Nebraska Star Beef's directions say to never thaw in the microwave and I agree.  There is no need for that, just plop the individual packages in a bowl of cold water if you need them quicker (about an hour).  Look at the beautiful marbling on these individually wrapped natural Angus ribeye and NY Strip steaks.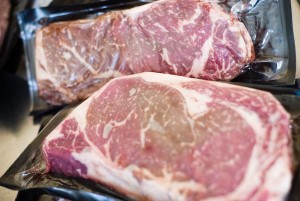 Taste Test (Why We Love Our Jobs)
You know what they say, it is a tough job, but someone's got to gorge themselves on beef in order to introduce people to these products.  As you can see in the photo above, Nebraska Star Beef hooked us up with all kinds of Natural Angus products.  They sent us  Filet Mignon, NY Strip and Ribeye steaks along with the largest Tri-Tip roast I have ever seen and some amazing Angus and Wagyu fusion hamburger patties.  As an added bonus, they sent over some of their awesome Lucky brand beef jerky that I had to hide from the kids in order to save some for Tom.  I unpacked the cooler and placed everything in the refrigerator to thaw overnight.  This was way too much beef for my family and Tom, so we took the opportunity to invite over the Food Editor for our local newspaper. Who better to help us taste this meat than a guy that gets paid to eat for a living and write about it?  With the Great Florida Ambassadors 'O Steak assembled, it was time to fire up the grill.
You can see from the photo above that these steaks contain some great fat marbling.  It is a shame to do over-think such a great natural product with good marbling, so all we did was brush on some olive oil and gave them a generous sprinkling of Kosher salt.  Let the taste of steak come through, right?  With the grill hot, it was time to sear our way to perfection.  We started with a single strip, ribeye and filet mignon.  That's how I like to decorate my grill: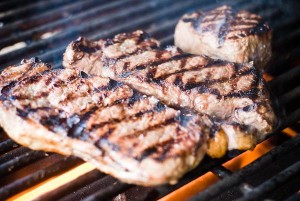 The results were amazing.  All of the steaks were very tender and juicy, trimmed with just the right amount of fat.  The filets were particularly awesome.  They could seriously be cut with a fork and simply melted in our mouths.  You can see in the photo at the top of the page that they almost fall apart on the plate when you cut into them.
It was then time to move on to the burgers.  We hear a lot about Wagyu and Kobe, but I rarely get my hands on some so I was intrigued by these Angus and Wagyu fusion burgers.  Again, we kept it simple, with a little salt and pepper.  The patties came in a package of 4 pre-made patties, so on the grill they went.  Our burger delivery system for the day were fresh buns and the decorations were made up of lettuce, tomatoes and some fresh pickles made by our friend and taster for the day.  The burgers were great.  They had just the right mix of fat to keep them juicy and had a really great taste and texture.  Looks pretty good, huh: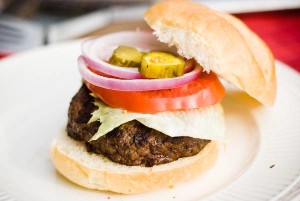 Conclusion
The day ended pretty much where I thought it would end.  We were all in a beef-induced coma with huge smiles on our faces.  The quality of the Nebraska Star Beef was amazing.  I also love the fact that I can fill up my freezer with such great quality beef, individually wrapped for easy thawing of just the right amount for dinner.  The prices are comparable to my local grocery store's "natural" steaks, but that label is pretty broad and I feel a lot better about where this beef comes from after watching the video on their site and working with the NSB guys.  I'll definitely be filling my freezer with their steaks and my wife is already mad that we ate all of the filets.  I think I need to go on a vegetarian diet for a week now…nah.