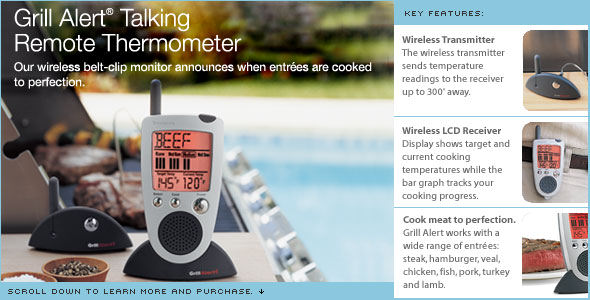 File this under "the gadgets I didn't know I couldn't live without" category, but here is an awesome gift idea for any griller (particularly the geeky/gadget types, but aren't we all?).  Slap some meat on the grill, jam the probe into the meat, close the lid and wait until your new little gadget TELLS you dinner's on.  It gets even geekier too, there's even a bar graph to help you monitor the progress.  The specs say it will work up to about 300 feet away, but really, how far away do you normally get from the grill?  For me, I'm just glad I can clip it to my belt and walk into the AC.  The grill alert is even polite enough to give you warnings.  It will politely tell you "your entree is almost ready" so that you know you need to spend the next commercial break checking on your meat.  "Your entree is ready" is the signal that tells you that you need to pause the game and get the meat off the grill before it becomes jerky.
The Grill Alert Talking Remote Thermometer
is obviously best suited for those "slow and low" grilling recipes.  It's especially handy for recipes like pulled pork.  The less you open the lid during long indirect grilling times, the less heat you will lose and your meat will cook faster and more evenly.  Keeping the lid closed also keeps in the smoke, which is very important as well.
So if you are looking for a great and fun gift for Father's Day, click on this link to check out the  Grill Alert Talking Remote Thermometer
on Amazon.  It's fun and useful!