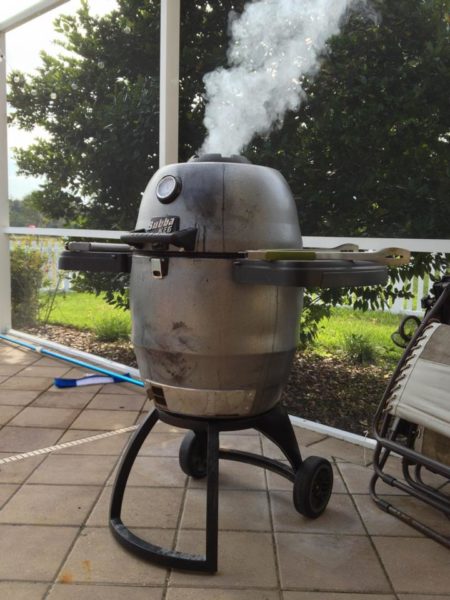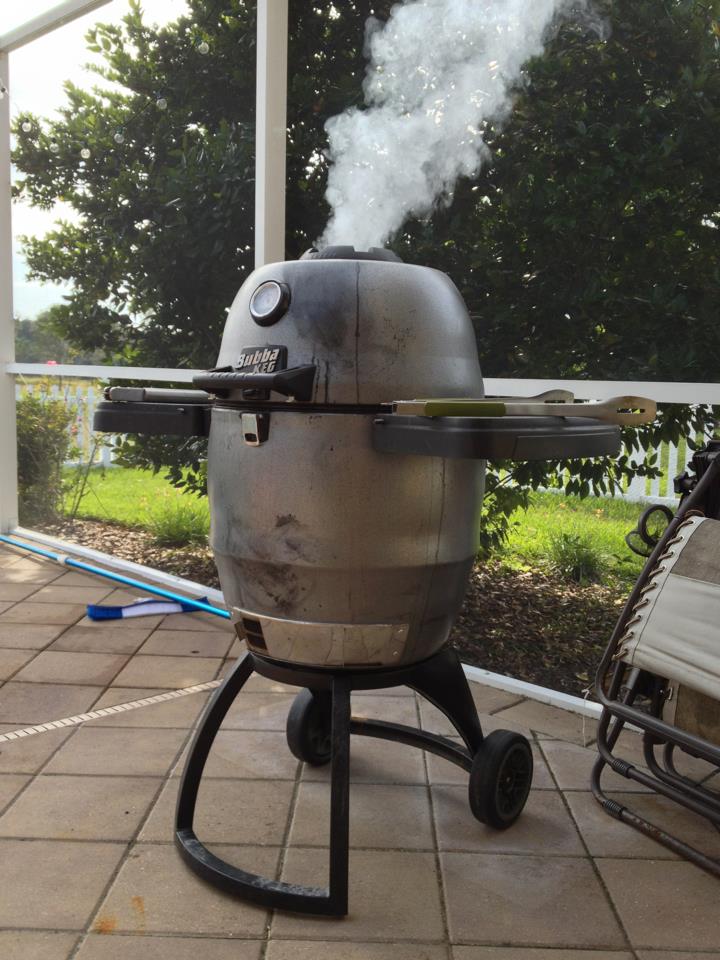 Cooks like a ceramic Big Green Egg, but is built for portability? Where can I get one of these things? Bummer, you can't, someone decided it wasn't a good product but I beg to differ. As you could imagine, I have quite the collection of grills in my garage and on my patio. So many, that my wife has been known to give one away without me knowing. Case in point, my Weber Performer
ended up living at my brother-in-law's house for a few months before I knew it was gone. Although I love and miss that Performer, I would have some SERIOUS issues if my Bubba Keg were to disappear. I have grown to love this grill and cook on it on a weekly basis.
The Bubba Keg grill is made of double-walled steel. This thing is seriously heavy duty and very well insulated. I dare say it cooks just as well as the ceramic cookers I have cooked on in the past. As an added bonus, it is the same dimensions inside, so all of the Big Green Egg accessories fit it. I can get it up to 700 degrees to quickly grill the perfect steak and after sealing the bottom vent with silicone, I can cook a brisket for 13 hours on one load of charcoal. The difference is that those ceramics are not meant to be portable and you really have to be careful when moving them around. Not the Bubba. This thing is even built to fit in to the receiver of a trailer hitch, which is the second reason I love it so much. The Bubba Keg has been to a bunch of football games (well, the parking lot at least) in our time together. I finally have the security people trained to know that this is in fact a grill and not a large vessel for transporting beer. As for the toughness factor I mentioned earlier, the Bubba has survived a few falls from the trailer hitch during late night (after too many soda pops) tailgate cleanups. The driveway took a beating in those cases, but Bubba doesn't have a scratch. The only problem I have it is the paint job, which sucks (see photo above), but I just use some high-temp paint to make him look good again.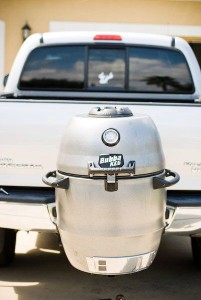 So this thing is awesome, what is the problem? The problem is Bubba Keg hasn't been manufactured or sold for a few years. I'm not sure why, I love mine, but it must not have made business sense for the folks at Bubba. I have seen that a new company has picked up the design and appears to be selling them on Amazon. The Broil King Steel Keg
looks to be the exact design and I hope to get my hands on one soon to compare with my beloved steel friend. Until then, I need to slap a new coat of paint on my Bubba and cook some more BBQ.