One of the biggest challenges for beginning barbecuers (ribs, pulled pork, brisket)  is getting the temp right, and then keeping it there.  Coal fired smokers take quite a bit of practice to regulate the temp. And ceramic smokers will hold a temp well, but if you over-shoot, good luck getting the temp back down before tomorrow.  So for those that love to eat BBQ and want to take a crack at it, but don't have the patience to master the all-night art of watching coal burn, a Bradley Smoker may be right for you.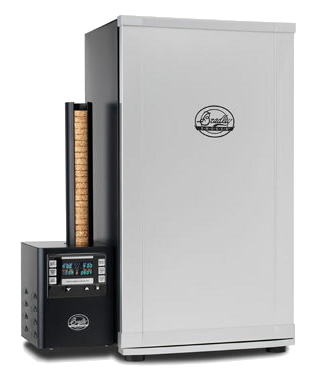 The Bradley 4 rack digital smoker is about the size of a wine fridge.  And if it weren't for the side car smoke generator, it would look like one too.    Its clean look would be a great addition to an outdoor kitchen, though it would need to be a covered outdoor kitchen to protect the unit from the elements. It has a thermostat controlled electric element to maintain a consistent temp.  The smoke generator uses wood bisquettes to generate the smoke you'll need for flavor. The Bradley bisquettes, which look like a small hockey puck of compressed wood, come in a variety of wood types,  from hickory to pecan to whiskey oak.  Choose the type based on what you're smoking.  You can control the amount of smoking time and the cooking time independently through the simple digital display.
The package comes with everything you need to get started smoking, minus the bisquettes.  The instructions recommend you initially season the smoker for an hour prior to smoking any food in it.
With 4 racks (or 6 racks), you'll be able to cook enough food to feed a small army.  Whether you are smoking ribs, pork shoulder (Boston butt) or brisket,  you'll have plenty of space. Each rack can easily hold 2 full racks of ribs, more if you are creative.
Clean up is a cinch, especially if you remember to use a drip pan when smoking a Boston butt.
I have now smoked a number of things on the Bradley smoker.  I started with smoking jalapeños (chipotle) for about 20 hours.   I've made 2 boston butts (pulled pork) and some ribs.  It is so easy and trouble free and the food turned out fantastic.
Pros:
Easy to use, great smoker for beginners and pros alike
No need to tend the fire or monitor the temp
Lots of wood smoke flavors to choose from
Large capacity in the 4 rack, huge in the 6 rack
Very active user community for help, ideas, mods, and more
Easy cleanup
Good price
Pretty to look at
Cons:
Not weather proof (makes it hard to smoke during rainy season in Florida)
Longer smokes (over 3 hours) require you to change the pan at the bottom to remove the spent bisquettes.  Though for most uses, this is rarely a problem (brisket, ribs and pulled pork use less than 3 hours of smoke time).
Conclusion:
This is a great product that lets you focus on your rubs and sauces, and if you are entertaining, lets you focus on your guests.  Its high quality construction and well thought out design make it a winner.  I can definitely recommend this product.
Where to buy:
You can find it on Amazon here.