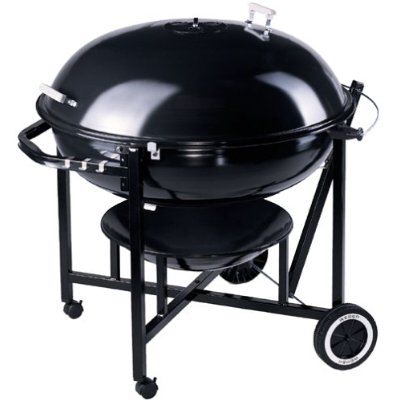 One of my favorite processes while tailgating is lighting the charcoal chimney and watching the colas burn down while enjoying a nice frosty beverage.  We use the standard Weber kettle grill
while tailgating and she usually has enough room to feed everyone at the party.  Our tailgating group has grown and we had a steady traffic jam of kabobs for this last game.  There simply wasn't enough room on the old Weber, so everyone had to wait in line holding their raw meat-on-a-stick.
So my natural reaction was, "we need a bigger grill!".  Ignoring the fact that we (currently) have no way to get anything larger out to the stadium, I started to look around at options.  That's when I ran into the big dog, the Weber Ranch charcoal kettle grill
.  I didn't know such a monster exists!  This behemoth has 1,104 square inches of cooking area.  It also weighs around 140 pounds and costs over a thousand dollars.  So once we get spouse approval, 4 new chimney starters
, a suitable trailer and a LOT of charcoal, we should be set to handle everyone's appetite.  Tailgating is important, we can't leave people waiting when they have meat to cook! (That last sentence was the start to my pretty pathetic case I am presenting to my wife tonight, needs work I think).