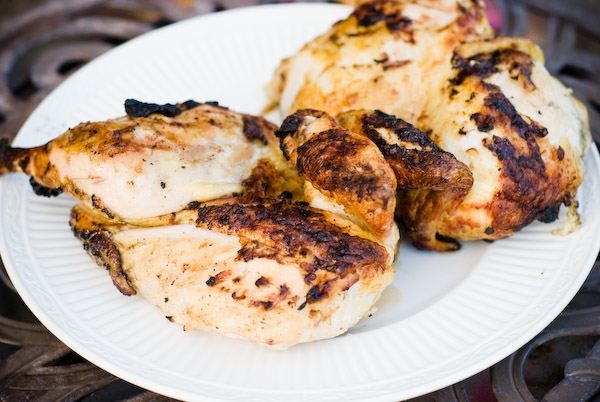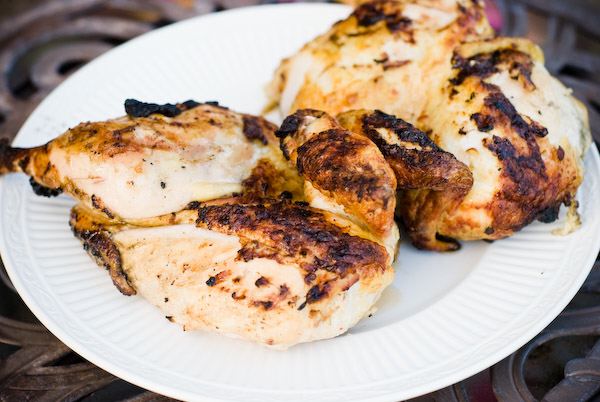 I have been itching to try this yogurt marinade for a long time, so much so that I prepped the marinade and butterflied the chicken at 6AM last week before leaving for work. I read on the Internet (so it has to be true!) that marinating chicken in yogurt results in a very tender and moist chicken and I really wanted to try it for dinner. The results? Well, it was a great tasting chicken but I don't think it was any more tender than usual. Don't get me wrong, this recipe is still a keeper, but I don't think I will clean a chicken at 6AM for it again (especially since I woke up the kids and got in trouble).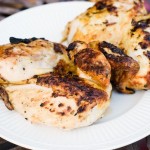 Print Recipe
Yogurt Marinated Grilled Chicken Halves
Yogurt marinated chicken on the grill. Good flavor but the yogurt didn't add as much moisture as expected.
Ingredients
1

whole

chicken

split in half

1/4

cup

plain Greek yogurt

1

teaspoon

Kosher salt

2

inches

of fresh ginger

1

teaspoon

ground cumin
Instructions
Scrape the paper-thin skin off of the fresh ginger using the edge of a spoon and then grate the ginger with a cheese grater.

Combine the grated ginger, yogurt, salt and cumin in a bowl and whip to combine thoroughly.

Place the chicken halves in a Ziplock bag, add the marinade, seal the bag and refrigerate for at least 4 hours and up to 24 hours, turning the bag at least once.

Prepare your grill for indirect grilling by lighting one side on high and leaving the other side off.  We are going to sear the chicken to get some great crispy skin and then roast with the lid closed on the cool side of the grill.

Remove the chicken from the marinade and place skin side down on the hot side of the grill.  Watch for flare-ups at this point, that skin likes to drip its fat onto the coals and cause problems.  If flare-ups occur, just slide the chicken over until the flames go out.

Continue to grill with the skin side down for a few minutes, until you get a nice brown skin.

Flip the chicken over and move it to the cool side of the grill.

Close the lid and maintain a temperature on the cool side of the grill of about 350 - 400 degrees.  This is where a great probe thermometer comes in handy.  Simply place the thermometer into the thickest part of the breast and roast the chicken until you hit 160 degrees.

Once the breasts hit 160 degrees, you are done!  Remember to leave the lid closed as much as possible to maintain the heat.