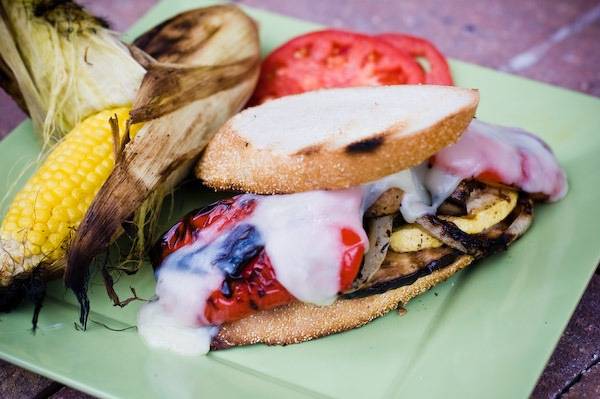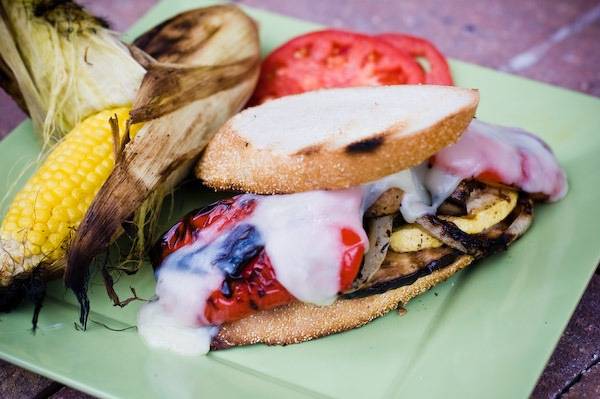 Veggie Sandwich
July 17, 2011
As we've said before, vegetables don't have to be boring.  And this veggie sandwich provides a delicious way to eat your veggies, not to mention get a much needed veggie post on our site.
I recommend you choose your favorite veggies for this.  No sense in making a Brussels sprout sandwich if you hate Brussels sprouts.
The best options include zucchini, summer (yellow) squash, eggplant, onion, button (white) mushrooms, portobello mushroom, red or green bell peppers.
Prep: 20 mins
Cook: 15 mins
Yields: 2 to 3 Sandwiches
Ingredients
3 cloves roasted garlic (see Gourmet Pizza on the Grill for instruction on how to roast)
Good Seasons Italian dressing made with balsamic vinegar instead of cider vinegar
Directions
1Slice the zucchini and squash in long slices a little more than 1/4 inch thick.  For the eggplant, I slice it in a diagonal to make it a little longer, 1/4 inch thick.  For the bell peppers I try to slice so it gives the largest flat pieces for better grilling.   Mushrooms are sliced so they are 1/4 inch thick as well.  Onions are sliced to make rings, but don't separate the rings of each slice.
2Marinade the sliced veggies in the Balsamic Italian dressing for at least 1 hour (4 is ideal).  I put the veggies in a large glass container with a tight lid so I can give a shake about every 1/2 hour to make sure the dressing is well distributed.
3Slice the bread in long diagonals.
4Over medium direct heat, grill the veggies until they are tender but not soggy, about 3 to 5 minutes per side. For small veggies, such as the mushrooms and red peppers, I use my favorite veggie basket.  I keep a spatula and a pair of tongs handy.  The onion slices respond better to the spatula, while the red peppers do better with tongs.
5While the veggies are grilling, grill the bread so it is lightly browned.  Spread the roasted garlic on the toasted bread.
6Add the veggies to the bread in layers, and while still hot, top with the provolone cheese and let it melt a bit before serving.
7Top with more Italian dressing if you prefer.  Salt and pepper to taste.
1 Review