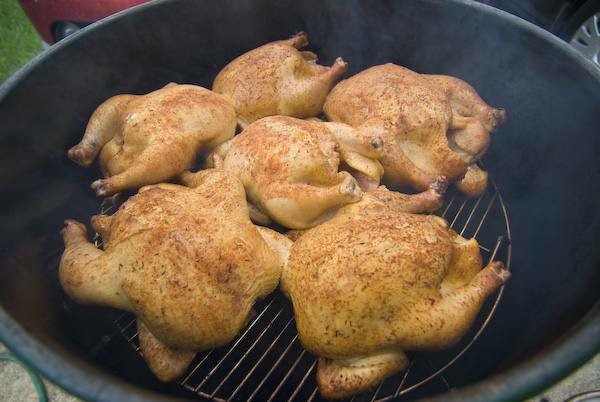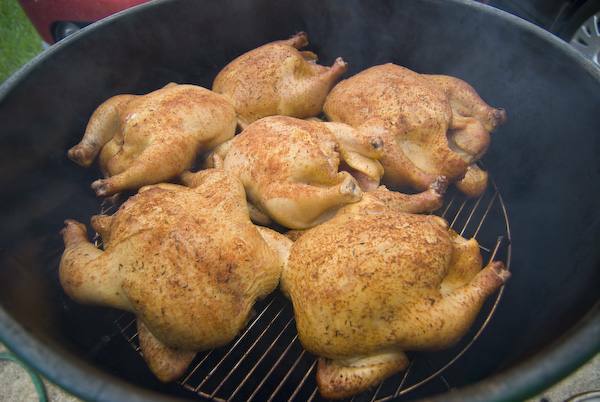 Since Halloween was on a Saturday this year, the neighborhood had a lot more time to plan a party. At this point, most neighbors have been down to check out the new bbq smoker. She's now less ugly, with her new University of South Florida (Go BULLS!) paint job. My wife decided to fully embrace my sudden smoking obsession for this occasion and proceeded to invite several people in the neighborhood to bring over their whole chicken to throw on the smoker. Not that I mind, I just haven't done a full load test on her (the smoker) yet and I wasn't exactly sure how much meat I could smoke at one time.
As the 4th chicken showed up, I started to get a little nervous since it was the size of a small turkey. I had to check the label twice, yep, it's actually a chicken. At this point, the smoker is all fired up and hovering around 250 degrees so I mixed up the following rub for the chicken: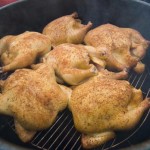 Print Recipe
Smoking Whole Chickens
Whole chickens on smoker.
Ingredients
1

chicken

young whole chicken

2

tablespoons

Kosher salt

1

tablespoon

garlic powder

1

tablespoon

onion powder

1

teaspoon

thyme

1

teaspoon

sage

1

tablespoon

paprika

1

teaspoon

fresh ground black pepper
Instructions
I then washed and rinsed the whole chickens, made sure I removed everything from the cavity (I have forgotten before) and then rubbed them down with the rub.  At this point, 2 more chickens joined the party, bringing the grand total to 6 chickens.  Yeah, I was pretty much planning to throw that last one on the grill at this point.

I was pleasantly surprised when I realized I DID have enough room for 6 whole chickens.  As you can see, without an inch to spare, she actually was able to handle all of the fowl.

Once I had all of the chickens arranged, I placed the lid on the smoker and opened the hole in the top.  To smoke a whole chicken, you want to be at around 250 degrees for about 4 hours.  The main thing to remember is that the internal temperature of the breast meat should reach around 170 degrees.  Check the temps after 3 hours using a meat thermometer.  You'll know you are getting close to smoked chicken deliciousness when the skin gets nice and dark.  My chicken turned out awesome and was done at pretty close to the 4 hour mark.

I had a little trouble maintaining a constant temperature while smoking the chickens.  I wasn't off by much, but the temps were fluctuating from about 250 up to 300 degrees.  I may have been over compensating and closing down the top air hole too much when the temperature got too high.  I need to get this right or smoking a brisket all day is going to be a little more of an interactive process than I would like...
Nutrition
Calories:
426
kcal
|
Carbohydrates:
4
g
|
Protein:
36
g
|
Fat:
29
g
|
Saturated Fat:
8
g
|
Cholesterol:
143
mg
|
Sodium:
3624
mg
|
Potassium:
401
mg
|
Fiber:
1
g
|
Sugar:
1
g
|
Vitamin A:
406
IU
|
Vitamin C:
9
mg
|
Calcium:
31
mg
|
Iron:
2
mg