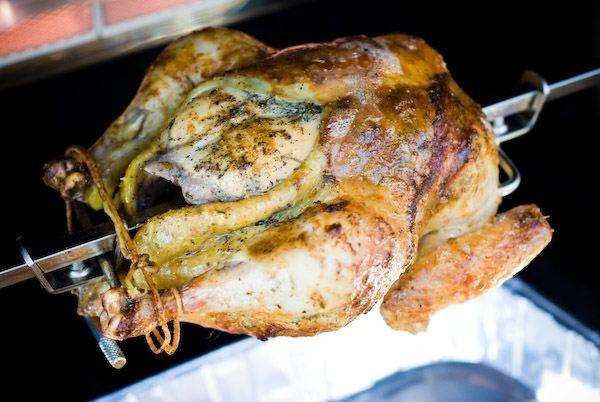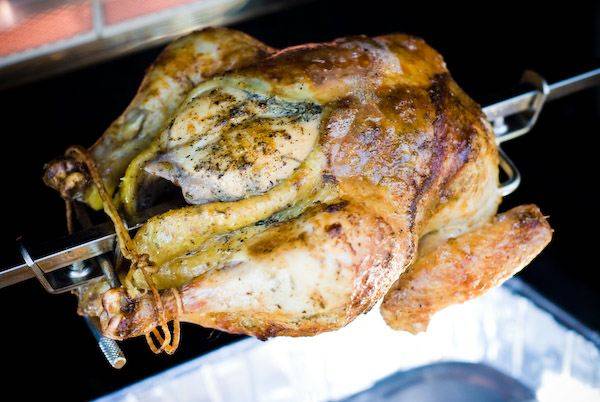 Why would anyone take their time to make rotisserie chicken at home when they can go to their local supermarket or fast food chicken "market" and get rotisserie chicken. Well… because this is a grilling website, and we looove to grill. Plus, you can put all kinds of twists and options on it if you do it at home to make it even better.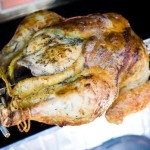 Print Recipe
Lemon Pepper Rotisserie Chicken
Rotisserie Lemon Pepper Chicken, but better than store bought.
Ingredients
1

whole chicken

fresh (not frozen), 3 to 4 pounds

2

tablespoon

olive oil

1

tablespoon

oregano

fresh chopped (or 1/2 tablespoon dry)

1

lemon

1

teaspoon

salt

1/4

teaspoon

pepper

1

tablespoon

lemon pepper spice
Instructions
Remove the stuff from the cavity of the chicken (what is a giblet anyway?). Wash inside and outside of chicken with running water.

At this point, you have options. You could brine with your favorite brine. Or marinade for a few hours. Or, as in this recipe, I just went safe with a lemon pepper chicken.

Pat dry. Rub inside and out with oil.

Salt and pepper lightly, again inside and out. Sprinkle with oregano and then use the lemon pepper very generously, again inside and out. Cut the lemon in half and put them in the cavity.  Bag the chicken and throw it in the refrigerator while you get the grill set up.

Following the grill's instructions for using the rotisserie. In my case, I remove the grates and attach the rotisserie motor. Heat the grill on high, bringing the temperature to 450 degrees.  I added a pan of water to catch the drippings (prevents flair ups) and keep the chicken moist.

Add the chicken to the skewer (pierce the lemon halves if you have to). Tie that bad boy down with a cotton string (don't use nylon, nothing good can come from that). Make sure you tie the wings so they don't dip down into the flames. Tie the legs as well.

Put the chicken on the grill and add the weight. Adjust it until the chicken spins freely and is in balance.

Close the cover and rotate the chicken over indirect medium high heat until the juices run clear and the temperature is 180° in the thickest part of the thigh, about 1 to 1 1/2 hours.  Don't peak too often or you'll let the heat out. Check after about 30 minutes to make sure the pan still has water and that the skin isn't browning too fast (if it is, just turn the grill down a bit).  Remember, all of this will vary depending on your grill and the size of your bird.

Once done, carefully remove from the grill with big cooking mitts.   Let the bird rest for about 10 minutes before carving it up.
Nutrition
Calories:
487
kcal
|
Carbohydrates:
4
g
|
Protein:
36
g
|
Fat:
36
g
|
Saturated Fat:
9
g
|
Cholesterol:
143
mg
|
Sodium:
716
mg
|
Potassium:
433
mg
|
Fiber:
2
g
|
Sugar:
1
g
|
Vitamin A:
288
IU
|
Vitamin C:
17
mg
|
Calcium:
55
mg
|
Iron:
2
mg
Mine came out quite yummy, and even moister than the store bought rotisserie chicken. Next time I'm gonna try this with a brine and then baste with a barbecue sauce. I've got a new bbq sauce I've been dying to try. But more on that later.
Enjoy!