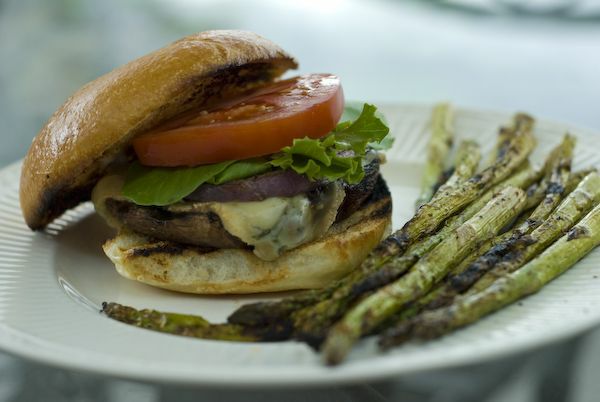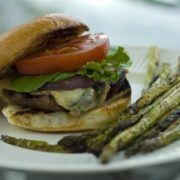 Print Recipe
Grilled Portobello Mushrooms
By marinating a Portobello mushroom, and then grilling it, you can create a flavorful alternative to go along side a steak, as a burger topper, or as delicious grilled Portobello sandwich. This easy Portobello recipe will please your vegetarian guests and meat eaters alike.
Ingredients
4

Portobello mushrooms

large

1

clove

garlic

2

tablespoons

olive oil

1/2

cup

balsamic vinegar

1/8

teaspoon

onion powder

1/8

teaspoon

sugar

1/8

teaspoon

salt

1/8

teaspoon

fresh ground black pepper
Instructions
In a small bowl, first mix the vinegar, onion powder, sugar, salt and pepper. Mince the garlic clove, or use a garlic press and add the garlic to the marinade. Mix the marinade well.

Wash the portobello mushrooms in cold water. Gently rinse the gills on the underside of the mushroom. Cut off the end of the stem to remove any dried or hardened section. Let the mushrooms drain, gill side down for 1 minute.

Place the portobello mushrooms gill side up in a dish (a baking dish will do fine). Poor the marinade into the gills of the portobello until full and slightly overflowing. Add remainder of marinade to the baking dish. Refrigerate for 1 to 2 hours.

Prepare the grill:Clean and oil the grill. Heat the grill to medium.

Pour the marinade from the mushrooms into the baking dish. Rub or brush the olive oil onto the tops of the mushrooms (the round caps, not the gills). Refill the mushrooms with the marinade, in to the gill side.

Add the portobellos to the grill over a direct heat. Cook for 4 minutes. Using tongs, carefully lift the mushrooms from the grill and pour out the marinade that remains in the mushroom into a clean dish. Return the mushrooms to the grill, gill side down. Baste the tops of the mushrooms with the marinade. Cook for 4 minutes.
Sandwich it!!
If you are going to use the mushrooms for a portobello sandwich, turn the mushroom back to gill side up, and add cheese. A strong cheese such as a nice blue veined Gorgonzola, or a strong Swiss makes a good blend of flavors between the cheese and the balsamic. Reduce the heat and close the lid until the cheese is melted.

Add to a grilled bun, with tomato, lettuce and a grilled onion. A touch of mayo or ranch dressing and you have a sandwich that has more flavor than some of the best burgers.
Nutrition