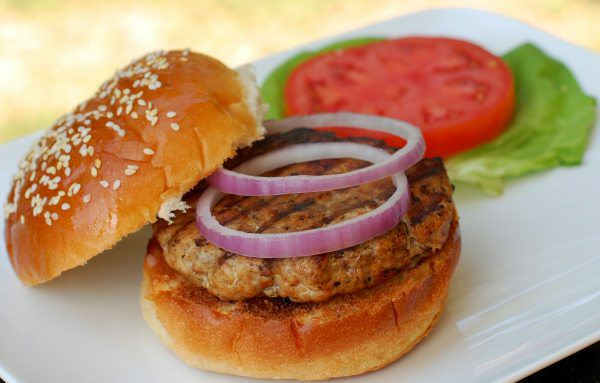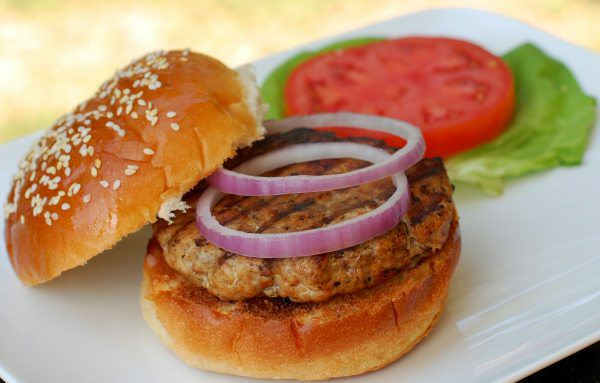 Grilled Jamaican Jerk Turkey Burgers
July 23, 2008
What better way to enjoy a grilled hamburger than to eat it with little guilt... by adding some jerk.  This recipe takes us to Jamaica, Mon, where we spice up a lean turkey burger with some tropical flavor.  We like to call them Jerkey Burgers.
Ingredients
1.25 lbs of lean or extra lean ground turkey
1/2 cup panko breadcrumbs (or regular breadcrumbs in a pinch)
1/4 to 1/2 cup Jerk Marinade depending on how spicy you like it (You can make your own, or we prefer Helen's Tropical-Exotics Jerk Marinade)
Directions
1In a large bowl, break up half of the ground turkey into pieces no bigger than the tip of your thumb.  Add 1/2 of the olive oil, breadcrumbs and jerk marinade, distributed evenly over the turkey.  Break up the other half of the turkey and then add the remainder of the olive oil, breadcrumbs and jerk marinade.  Gently toss the mix with your hands until thoroughly mixed, being careful not to compress the meat mixture too much.  Scoop out enough to make a patty (1/6 of the mixture), round into a ball and then gently compress into patties.  Do not over compress to keep the burgers juicy instead of dense.  Firm up the edges with your fingers to make sure the patties stay together on the grill.
2Place the patties on the grill over direct heat and grill for 5 to 7 minutes.  Flip the burgers and grill for another 5 to 7 minutes until the juices run clear and the insides are no longer pink (you may have to cut into the least done burger to check).  If you want cheese, add in the last minute.  Remove from the grill and cover loosely with aluminum foil for a minute or so (while you toast the buns or call everyone to the table).
3Top with traditional condiments, or top with a black bean mango salsa!
4Add some grilled corn on the cob and you have a complete meal!
0 Reviews