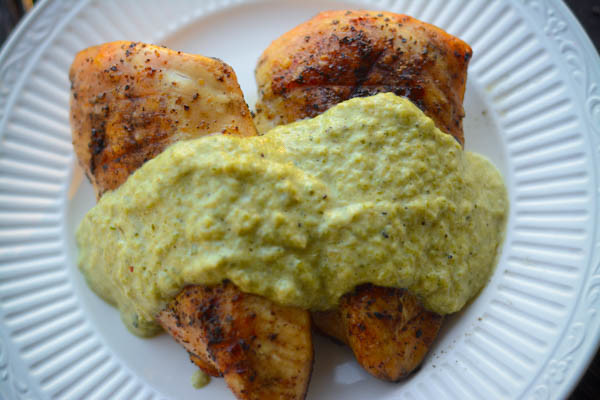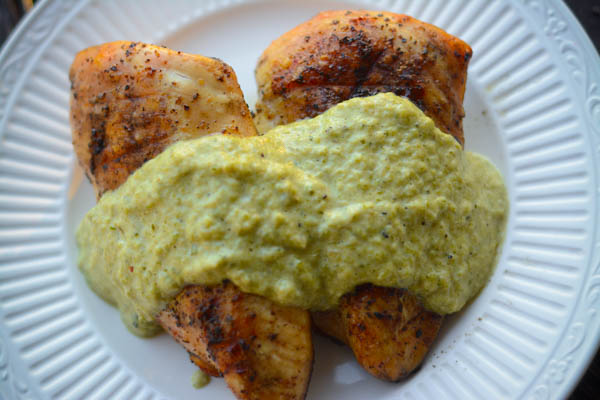 I'll be honest. The only reason I have this sauce paired with grilled chicken is because most people frown upon me eating it with a spoon right out of the food processor. This creamy poblano sauce is super easy to make and goes great with pretty much any grilled chicken or pork.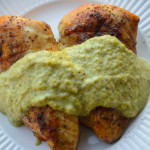 Print Recipe
Grilled Chicken with Creamy Poblano Sauce
Creamy poblano sauce over grilled chicken
Ingredients
chicken breasts

5 fresh poblano peppers

1 large white onion, sliced thin

2 garlic cloves, minced

kosher salt

2 tablespoons olive oil

1/4 teaspoon dried oregano leaves

1 cup heavy whipping cream
Instructions
Light your charcoal or gas grill and prepare it for direct grilling over medium-high heat.

Once the grill is nice and hot, place the poblano peppers over the hottest part of the grill. We want to blister the skin all over. This part is impossible to screw up and I find it strangely therapeutic.

Once the peppers are blistered all over, transfer them to a bowl and cover with plastic wrap or a towel for about 10 minutes. The steam will continue to work on the skins and make the pepper nice and tender.

After 10 minutes covered, scrape away the blackened skin and discard.

Remove the tops and seeds from the roasted poblano peppers and then slice the peppers into 1/4 inch slices.

Add 2 tablespoons of oil to a pan and heat to medium.

Cook the onions for around 8 minutes, until soft, then add the garlic and cook for another 2 minutes.

Add the dried oregano, pepper slices and whipping cream, reducing the heat to medium-low.

Stir constantly and cook until the whipping cream thickens, around 8 minutes.

Remove from the heat and carefully transfer the poblano sauce to a food processor or blender. Blend until smooth.

Now that the roasted poblano cream sauce is done, brush the chicken breasts with a little olive oil and then season with salt and pepper.

Grill the chicken breasts over medium-high heat until a meat thermometer reads 165 degrees at the thickest point of the breast.

Serve the chicken with the poblano cream sauce and watch everyone lick the plates.