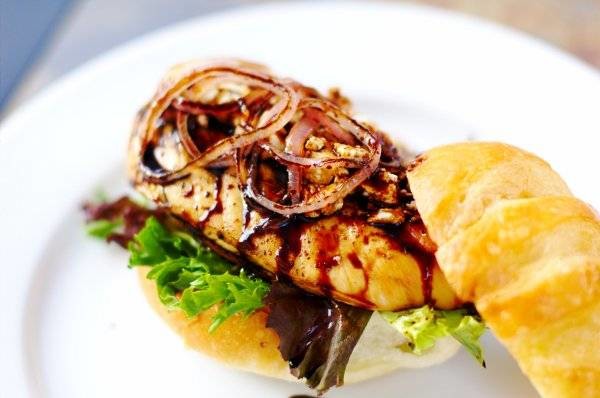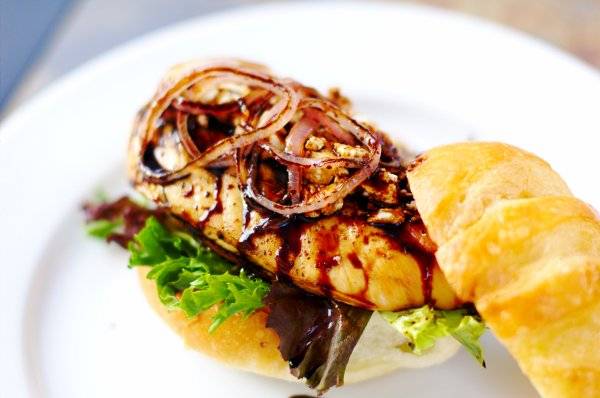 This was the best chicken sandwich I've ever made.  Hands down.  Everything turned out great and came together perfectly.  The chicken was moist, 'cause I followed the basic instructions for grilling chicken breasts.  And then my first attempt at making a balsamic vinegar reduction turned out great (other than stinking up the whole house).  The reduction melding with the goat cheese and the mild flavor from the sautéed red onions was the perfect combination.  It's good.  Damn good.   And follow that with a nice cold beer….aaah, heaven.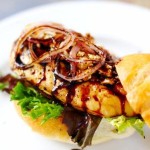 Print Recipe
Goat Cheese Chicken Sandwich with Balsamic Reduction
The not-so-secret recipe for the best chicken sandwich I've ever made. Topped with goat cheese, balsamic reduction and some red onion, the flavors explode in your mouth (in a good way).
Ingredients
2

boneless skinless chicken breasts

2

buns

6

tablespoons

goat cheese

1

small red onion

sliced in thin rings

1

handful

of spring mix lettuce

2

tablespoon

balsamic vinegar reduction

1

tablespoon

olive oil

salt and pepper
Instructions
Sauté red onion with olive oil in pan over low heat until translucent and tender.  Remove from heat.

Fire up the grill to high for direct heat grilling. Clean and oil your grates.

Season the chicken with salt and pepper.

Place the breast on the hottest part of the grill 2 minutes.

Using tongs, lift each breast, rotate 45 degrees and then place them back on the grill.

After 2 to 4 minutes, lift the chicken breasts with tongs and flip them over.

Grill for 2 more minutes and then rotate again 45 degrees to make our grill marks on this side.

Continue grilling for another 1 to 2 minutes until juices run clear and then add the cheese.  Cook until cheese is melted, about 1 minute.  Remove from grill and let rest.

Toast buns over direct heat until brown.

Assemble sandwich with spring mix on the buns, then add chicken and onions.  Add reduced balsamic vinegar as a final touch.
For the balsamic vinegar reduction:
Place three cups balsamic vinegar to a non-reactive,  heavy-bottomed pot, preferably stainless steal.  Heat on low, until it just begins to simmer.  Reduce until it thickens to the consistency of chocolate syrup, or to desired consistency, about 2 to 2 1/2 hours.  Be careful not to burn near the end of the thickening process.

To test the consistency, drizzle a bit onto a plate and then check how sticky it is.  If  it is too thick, add a little water to the pot, stir it up, and retest.

If you have a side burner on the grill, this is a great item for outdoor cooking.  Otherwise, it will likely stink up the whole house.  But it is worth it.  This stuff is the nectar of the vinegar gods.  Enjoy.