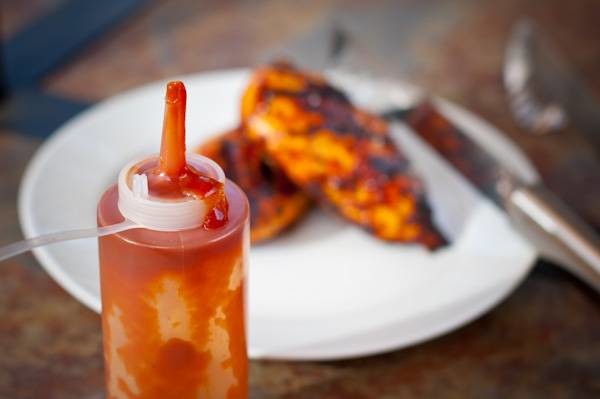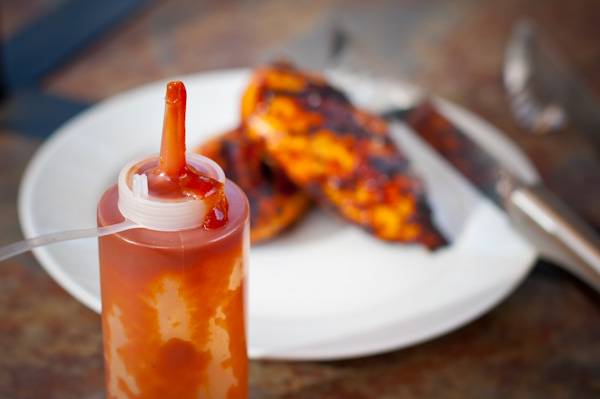 BBQ sauce isn't hard to make.  But because of the amount of different ingredients involved, it does take some time and can leave your kitchen a bit messy.  But it is worth it.  It is so satisfying to mix all this stuff together, tweak a bit here and there, and wind up with a sauce that you're proud of.  In this case, I was inspired by some store bought sauce that I first tasted on some wings, Bronco Bob's Smoked Bacon Chipotle Sauce.  I took my basic barbecue sauce and substituted bacon drippings for the oil, and replaced some of the chili powder with chipotle chili powder, and bingo, we have a winner.  This is great on pork chops, chicken wings, chicken breasts, ribs, etc.  To store, since it contains meat (bacon drippings), you have to either use it within a few days, or freeze it for near future use.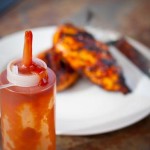 Print Recipe
Chipotle Bacon BBQ Sauce
Bacon and chipotle come together to make an awesome barbecue sauce.
Ingredients
5

bacon slices

1/3

cup

onions

minced

2

garlic cloves

minced

1 1/2

cups

ketchup

1/4

cup

vinegar

1/2

cup

dark brown sugar

packed

2

tablespoons

Wostershier sauce

2

tablespoons

soy sauce

2

tablespoons

molasses

1

tablespoon

dry ground mustard

2

teaspoon

chipotle powder

more or less based on how much kick you want

1

tablespoon

chili powder

ancho
Instructions
Take 2.5 tbsp of the fat that was rendered out of the bacon.  Add to a sauce pan.

Saute the minced onions  in the rendered fat in the sauce pan over medium low heat until the onions are translucent, about 5 minutes.

Add the garlic and cook for another minute or 2 until garlic is soft.

Add dry spices and cook for another minute.

Add remaining ingredients and stir.

Simmer for about 15 to 20 minutes until thick.

Let cool and refrigerate.

Add to whatever your cooking!