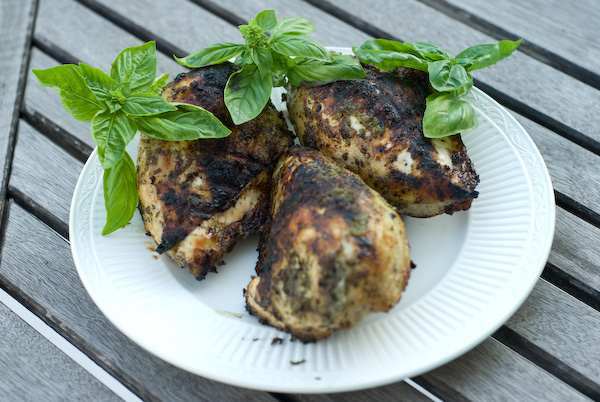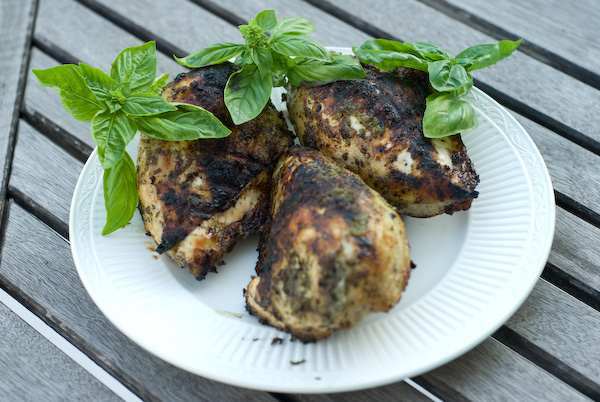 Lemon Basil Split Chicken Breast Recipe
September 4, 2009
My garden over-floweth with basil these days so I am always looking for a way to use it in our cooking.  There aren't too many things that go together better than lemons and basil, so I decided to throw some together this week to marinate the split chicken breast that I bought, on sale.  Most of you know I am too lazy I don't plan far enough ahead most of the time to marinate for too long, so the strong basil and lemon are perfect combination for a shorter marinating time.  Split chicken breasts, with the skin and rib bones still attached, is one of my favorite foods.  There's nothing better than a little crispy skin (just a little won't hurt!), covering delicious juicy white meat chicken.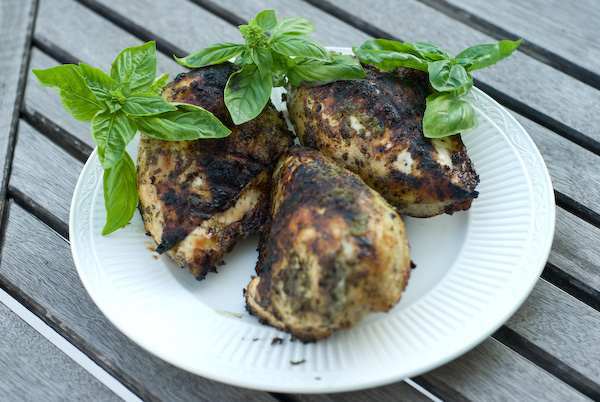 My relationship with split chicken breasts has always been a love/hate relationship though, since they are somewhat challenging to get right!  When the bones are still attached to the breast, they form an insulation layer that makes it difficult to cook thoroughly without drying.  If you aren't careful, you'll end up with a dry outer layer of chicken and a pink (yuck!) middle.  Fear not though, I finally wrote up instructions on how to grill split chicken breasts, using a 2 heat zone technique.  Let me also say before you try this.  One of the most common things that happens to me is that the skin gets burned because I wasn't paying close enough attention.  If this is the worst thing that happens to your fowl while cooking, just peel off the burnt stuff, who cares?  Grilling doesn't have to be perfect to be delicious...
Prep: 15 mins
Cook: 30 mins
Yields: 4 Servings
Directions
1Place all marinade ingredients in a food processor (or blender) and blend well.
2Place the chicken breasts in a sealable bag (careful with the ribs so they don't poke through) and pour in the marinade.
3Work the marinade around to cover the chicken breasts and then squeeze as much air out of the bag as you can and seal it.
4Place the bag in a bowl (in case the ribs made a hole in the bag) and place the bag in the refrigerator.
5Marinate the chicken for around 4 - 6 hours, turning the bag a few times throughout so that the chicken gets equal love from the marinade.
6Remove the chicken from the refrigerator and place the bag of marinating chicken on the kitchen counter about 30 minutes before grilling, just to warm the breasts up a little.
7Follow these directions to grill your chicken.
1 Review