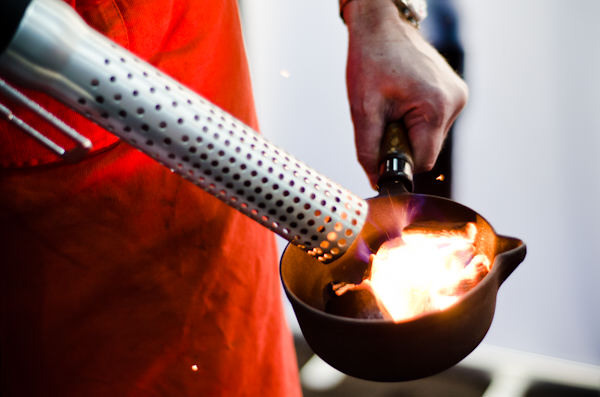 I've tried a few different ways to light charcoal.  Back when I was a novice I used lighterfluid (*gasp*). I've used chimney starters with oiled paper towels, those wax cube things, and the electric elements.  But I never figured I'd be using the love child of the unholy union of a toaster and a hair dryer to start my grill.  But that is just what the Looftlighter is.  And talking to Richard Looft, founder and CEO of Looft Industries, at the Hearth, Patio and Barbaque Expo a week ago, the combination of toaster and a reversed vacuum cleaner was his first prototype, inspired by lighterfluid-flavored chicken.
The Looftlighter has some electric coils and a blower.  Plug it in, press the button and aim.  Within seconds, the coals will ignite.  The air blowing on the coals will then "fan the flames" and cause them to quickly spread through the rest of the coals.  It is a short cut to a fully fired up grill.  Now if you are running low on beer, you can skip ahead to the cooking part (wait…what?).  Yeah, that is the downside to all of this.  No more excuses for drinking a few cold ones while you wait for the coals to get ready. But even so, it is an impressive device, and one that we can endorse.
Pros
Fast, fast fast, those coals are ready in a jiffy.
Unlike a chimney, you can stack your coals how you'd like to use them, and then light them.  No pouring out hot coals from a chimney.
You can light the exact amount of coals you want to use, instead of just what fits in your chimney.
Long cord to reach your grill.
Cons
You need an electric source
No time for beers
It isn't cheap
Conclusion
This is a slick new product that will make all of your friends envious.  There are much cheaper alternatives and if you aren't a gadget junkie, you'd have a hard time justifying the price.  But if you gotta have the latest, coolest gizmos, this thing is just so cool.
You can buy it from Amazon here.
UPDATE: We'e spent a lot of time with this gadget now, check out our full hands-on Looftlighter review.