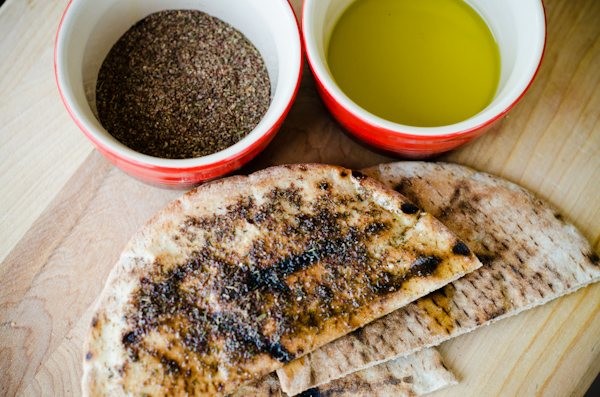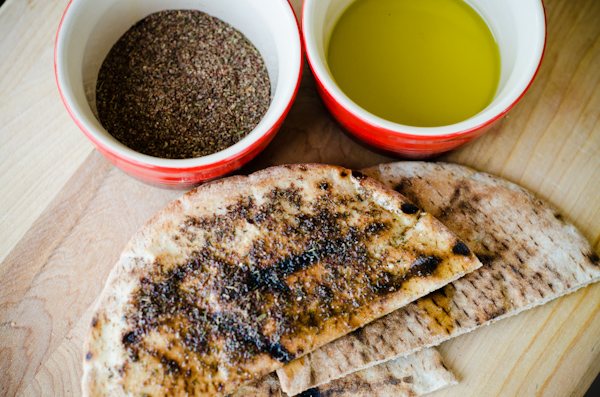 I just came back from Israel and now find myself addicted to this amazing spice blend called za'atar (the apostrophe is silent). I was first introduced to it on the streets of Old Jerusalem, where we enjoyed it at an outdoor cafe sprinkled on fresh and warm Jerusalem bread. I wasn't sure if it was the beautiful environment that got me hooked or the flavors, so I set out to make it as soon as I got back to the States. Well, it wasn't just the environment because now my family is hooked on grilled pita bread with olive oil and za'atar.
The hardest part about this recipe is finding the sumac. Sumac is a Middle Eastern spice that has a tart and citrusy (is that a word?) flavor. If you have an good grocery store, you might luck out and find it. I found it in a Middle Eastern grocery store that I didn't even know existed in town. Now that I found this cool store, there are all sorts of flavors to explore.
As for delivering this spice mixture to your taste buds, all you need is some good bread and a little olive oil. It is also amazing mixed in with some plain greek yogurt as a dip. I'm going to experiment with variations as a rub, so look for those soon. For now, here's a really easy za'atar recipe to use as an appetizer.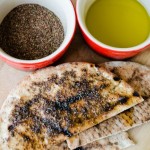 Print Recipe
Za'atar Recipe on Grilled Pita
Middle Eastern spice, Za'atar, on grilled pita with olive oil
Ingredients
2 tablespoons dried Thyme

2 teaspoons powdered sumac

2 teaspoons toasted sesame seeds

1/2 teaspoon Kosher salt

extra virgin olive oil

pita bread
Instructions
Preheat the grill to high (for marking and toasting the pita bread).

Combine all of the za'atar spice ingredients in a clean coffee grinder or food processor.

Pulse the grinder a few times to grind up the sesame seeds, just a few seconds is fine. There, you made the za'atar! That was easy.

Now that the grill is hot, turn the heat down to low and place the pita bread on the grill.

Once you smell the pita toasting, flip them over and toast on the other side. All we are looking for here are some tasty grill marks and warming up the bread.

Remove the pita from the grill.

Brush the pita with the olive oil, sprinkle with the za'atar and cut into strips.

Serve with extra za'atar spice for a nice and easy appetizer while you grill the rest of your dinner.