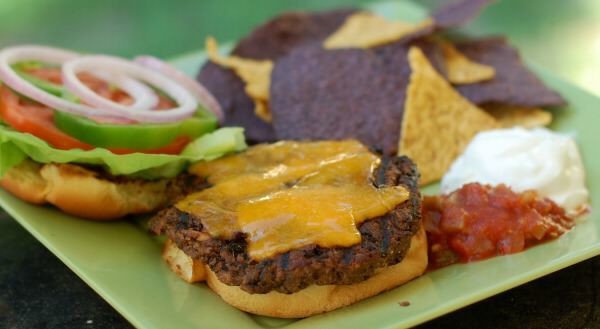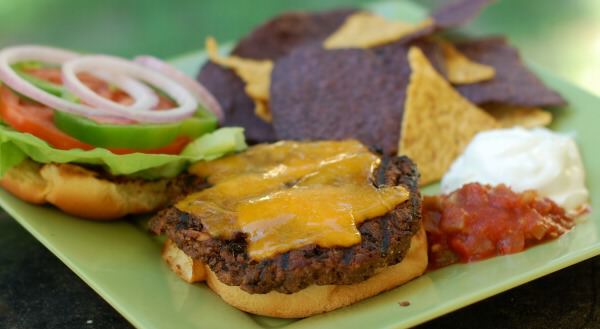 It's somewhat ironic that a guy that writes for a grilling website married a vegetarian, but that is what I did. So on occasion, to keep my wife happy given the amount of time I work on this, I make a recipe she can enjoy. In this case, both of us loved these veggie burgers. She claims this is the best veggie burger recipe she has ever had, home made, from the store or in a restaurant. And she is pretty picky.
Just a bit of warning, there is some indoor prep work that goes into this prior to making its way to the grill.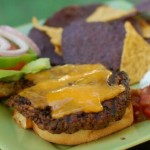 Print Recipe
Veggie Burger Recipe
A fair amount of work, but my vegetarian wife says this is the best veggie burger recipe she has ever eaten, home made, from the store or in a restaurant.
Ingredients
2

cans

black beans

15-ounce cans

5

button mushrooms, sliced

1

tablespoon

chili powder

1

tablespoon

cumin

1

cup

water

1

teaspoon

dried oregano, crumbled

1

egg

1/3

cup

plain dry bread crumbs

1/4

teaspoon

cayenne pepper

3

tablespoons

olive oil

1/2

cup

onion

finely diced

3

cloves garlic

minced

4

slices

cheese

optional

4

hamburger buns
Instructions
Add 1 tablespoon olive oil to a medium sauce pan.  Add 1 teaspoon of the minced garlic, 1 tablespoon of the diced onion.  Sweat (low heat, just barely sizzling) for about 10 minutes until onions are translucent.

Add black beans, undrained. Add water.  Bring to a rolling boil, then reduce heat and simmer for 10 minutes.  This will reduce the gassy effect from the beans by breaking down oligosaccharides (the what? You heard me).

While the beans are cooking, sauté the remaining olive oil, garlic, onions and mushrooms in a sauté pan.

Drain and rinse the beans.  Return to sauce pan and mash lightly with a potato masher (or large fork) until about 1/2 are smooshed completely. (yes, "smooshed" it a technical term)

Add the sautéd mushrooms, onions, garlic and remaining oil and juices from the sauté pan to the beans. Add the cayenne pepper, oregano, cumin, chili powder, and bread crumbs. Stir.

Beat the egg and mix into the beans.

Form into patties and place on wax paper. Refrigerate for at least 1 hour prior to grilling. This will let the flavors blend and the patties form.

Brush some olive oil on the patties prior to grilling over high direct heat. Oil the grill grate before grilling. Cook for about 2 minutes per side. Add cheese if you like.
Nutrition