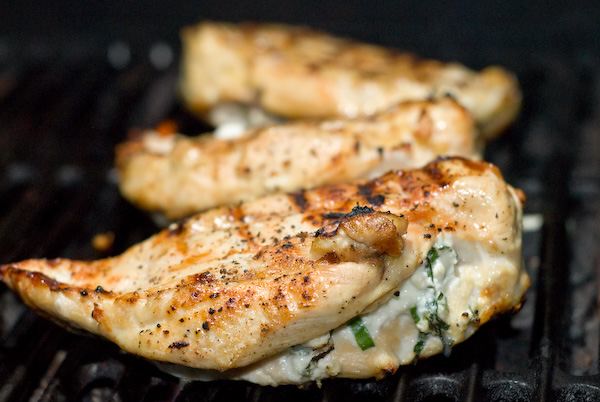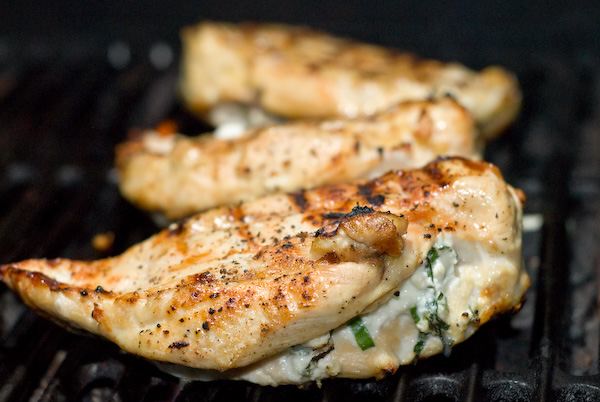 Grilled Stuffed Chicken Breasts
December 13, 2010
All I can say is WOW.  This is one dinner where I really didn't argue with my son too much when he didn't want to eating what we were eating for dinner (yeah, we are in THAT phase).  After telling him he could be excused from the table (with no dessert), I inhaled his leftover chicken breast.  Goat cheese and basil jammed into poultry and then cooked over an open flame is one of the best things that will come off of your grill.  This grilled goat cheese and basil stuffed chicken is a really easy and quick grilling recipe.  Even easier if you are like me and grow your own basil (and REALLY easy if you have a goat in the yard!).  How easy?  Let's take a look...
Directions
1Create a "pocket" in the chicken breasts by slicing them length-wise, but not all of the way through.  We don't want to butterfly the chicken, just create a large pocket to hold our gooey goat deliciousness.
2Mix the goat cheese, green onions and basil together in a bowl and divide into 3 equal portions.
3Stuff the pocket on each chicken breast with a portion of the stuffing.  Roll up your sleeves and use your hands to work the stuffing into the pockets and then press the ends together on the chicken to seal the pocket.
4Rub the outsides of the chicken breasts with Kosher salt and fresh ground black pepper.
5Light the grill on high.
6Place the stuffed chicken breasts on the grill and grill direct for about 5 minutes per side or until the chicken is cooked all the way through.
7Serve and try to resist the urge to lick the excess stuffing off of your plate...
1 Review