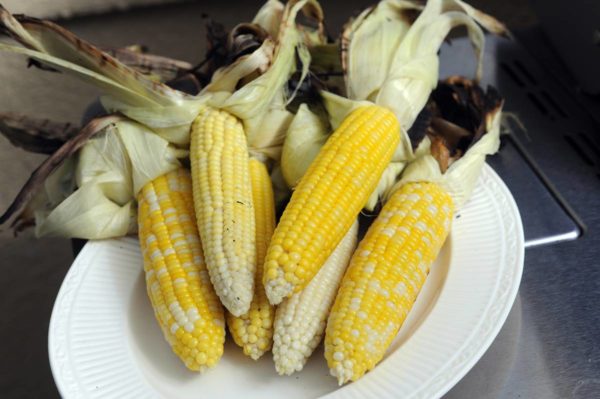 Ah, summer. Street fairs and carnivals with cotton candy, funnel cakes and grilled corn on the cob. Want to capture that street fair flavor at home and impress your cookout guests? Fortunately grilling corn is easy, and keeps your kitchen clean! When cooking ears of corn on the grill you have several options, but if you want to reproduce that street fair flavor, you have to cook it in the husk. This isn't hard, but there are a few tricks that will result in the most succulent kernels.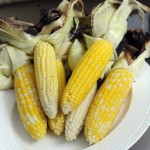 Print Recipe
Grilled Corn on the Cob
Corn grilled in the husks. It is easy and has a slightly better taste than boiled corn. And you get to leave the shucking to the eaters.
Ingredients
8

Corn on the cob

in the husks

Bowl or cooler large enough to soak the corn

butter

optional

salt

optional
Instructions
Choose the right corn

You want to choose a full ear, one where all of the kernels have filled in. You have to take a peek to see what is going on inside, but don't pull back the husk too far, because this will protect the kernels during cooking. Different people have preferences to the size of the kernels. Kernels on the smaller side tend to have kernel skin that isn't as tough, and the meat of the kernels is juicier and sweeter. Larger kernels give you more corn for your money. Examine the silks on the end to make sure they aren't dried out. Dried out silk means it is old, which won't taste nearly as good as fresh ears. Make sure the husks are green and tightly wrapped to the corn. Look for any worm holes in the husks. No one likes a worm surprise. Corn that has the ends cut off isn't ideal either.

Soak in water 1 hour or more. With the husks still on, soak the corn in ice water. 2 to 3 hours is best, but an hour will do.  Fully submerge the corn in the water.

Grill 'em.

Grill the corn over medium heat with the lid closed. Cook each side until the husk is a crispy brown to slightly black. The insides are protected by the layers of husk and the ice water they soaked in, so don't worry if they over cook too much. Rotate a quarter turn after about 5 minutes, when the husks are brown. Different ears may cook faster based on hot spots on your grill, so adjust based on the color of the husk. A pair of large tongs works best Rotate in quarter turns until each side is browned, then remove from the grill. The husks will help keep the corn warm, but don't wait too long!

Built in handle. Once the corn has cooled enough to hold, peel back the husks and remove the silks. You'll find cooked silks are much easier to remove than raw ones. Take one inner piece of husk and tie it around the other husks to make a handle.

Butter and salt to taste.

And EAT!!!!
Nutrition
Calories:
161
kcal
|
Carbohydrates:
34
g
|
Protein:
6
g
|
Fat:
3
g
|
Saturated Fat:
1
g
|
Cholesterol:
1
mg
|
Sodium:
619
mg
|
Potassium:
500
mg
|
Fiber:
4
g
|
Sugar:
12
g
|
Vitamin A:
353
IU
|
Vitamin C:
12
mg
|
Calcium:
15
mg
|
Iron:
1
mg
Summary:
1. Pick good corn.
2. Soak in water for 1 hour or more.
3. Cook over low direct heat for about 5 minutes or until husks are brown and charred all over.
4. Rotate 1/4 turn, repeat cooking until all sides are brown.
5. Cool a bit, then peel back husks and remove silk.
6. Butter, season to taste, and enjoy!
This is the most delicious way to grill corn on the cob, in the husk after soaking in water. Grilled corn on the cob goes great with grilled pork chops and especially well with other finger grilling foods like grilled chicken wings!