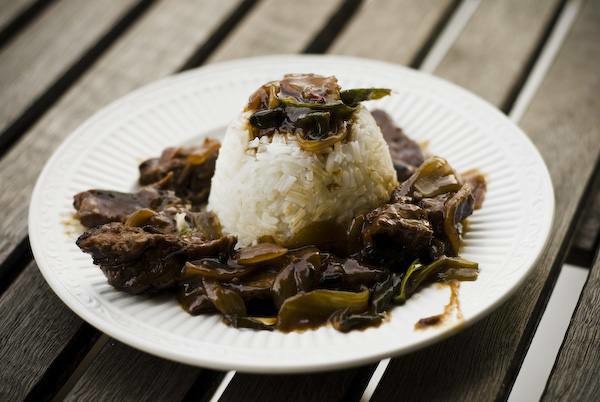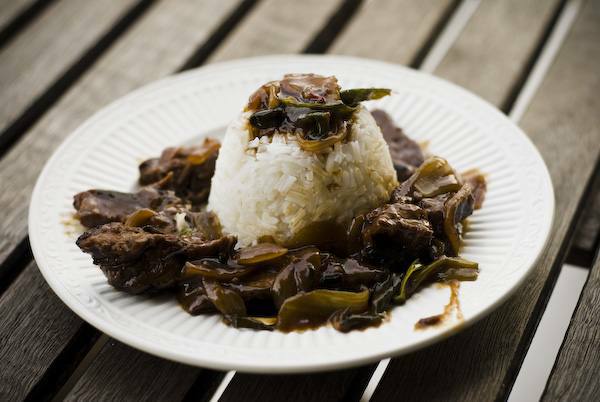 My wife was excited when I came home and asked if she wanted Mongolian Beef for dinner. She thought I had read her mind, since she had evidently been craving Chinese. Her mood suddenly shifted when I said I was going to cook it. You see, I have never made Chinese food before and she knows that. The moment I threw in the detail that I was going to try and cook my first Chinese food meal on the grill is the moment she started dialing the Chinese food restaurant. A little coaxing and one glass of wine later, she started trusting me and let me get to work on the marinade.
I had been wanting to try to cook Mongolian Beef ever since I saw a recipe for it on blogchef.net.  I had a feeling that marinating and grilling the flank steak instead of frying would add a little different flavor to one of my favorite Chinese dishes.  Flank steak is the perfect cut of meat for marinating.  It tends to take on a lot of great taste from the marinade, more so than other cuts of meats. 
Long story short, my theory was correct.  The Mongolian beef sauce made an excellent marinade and the grilled flank steak combined to make it the best Mongolian beef I have ever had (and probably healthiest as well).  Boiling the marinade for about 10 minutes removes any bacteria (thought there really shouldn't be any as long as it is refrigerated) and allows us to reuse it as a sauce, so DON'T throw it out after you are done marinating!  Let's take a look…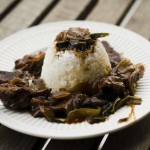 Print Recipe
Grilled Mongolian Beef
Mongolian beef with flank steak marinade made for the grill. The best and healthiest Mongolian beef I have ever had.
Ingredients
1

pound

flank steak

1/2

cup

soy sauce

3

tablespoons

olive oil

1/2

cup

dark brown sugar

3

tablespoons

dry white wine

3

cloves

garlic

minced

1

tablespoon

ginger paste

1/4

cup

water

1/2

teaspoon

red pepper flakes

1

bunch

green onions

sliced into 1 inch pieces

2

onions

medium, sliced
Instructions
Sauté the garlic and ginger paste in about a tablespoon of olive oil until fragrant (meaning until you smell the garlic cooking, but before it becomes a dark brown, bitter and burned).

Add the soy sauce, wine, brown sugar and red pepper flakes and bring to a simmer, stirring until all of the brown sugar is dissolved.  Remove from heat and allow to cool completely to room temperature.

Once the marinade is cooled completely to room temperature, place the flank steak into a resealable bag, pour in the marinade and place in the refrigerator.  Allow to marinate for at least 2 hours, flipping the bag over at least once.

Remove the flank steak from the refrigerator about 30 minutes before you start the grill.  We want to let the flank steak heat up to room temperature before we put it on the grill.  DON'T throw away the marinade, we're not done with it yet...

Light the grill and prepare to grill over direct, high heat.

While the grill is heating up, pour the marinade into a pot and bring to a boil.  Reduce to a simmer and simmer the marinade for at least 10 minutes to remove any bacteria.

Once the grill is hot, place the flank steak on the hottest part of the grill and let it go for about 5 minutes.

Heat 2 tablespoons of Olive oil in a pot over medium-high heat, preferably on a side burner so you can keep an eye on the flank steak.

Once the oil is hot, add the green and regular onions, stirring constantly.

After the first 5 minutes of grilling the flank steak, rotate 45 degrees so we can get those nice grill marks.

After another 3 - 4 minutes, flip the flank steak over and grill for another 3 - 4 minutes.

While the flank steak is grilling, keep stirring those onions so they don't burn!  We want to get them to the point they are starting to caramelize but not burnt, reduce the heat as needed.

After the first 3 - 4 minutes of grilling the steak on the second side, rotate 45 degrees and grill for a final 3 - 4 minutes and remove from the grill.  Let the steak rest for 5 minutes.

While the steak is taking a break, add the sauce to the now caramelized onions and bring to a simmer.

Slice the steak AGAINST the grain into thin strips and then bite-sized pieces.

Add the sliced steak to the onions and sauce and continue to simmer for about 10 minutes to thicken. Combine a few teaspoons of corn starch with just enough water to dissolve and then stir into the sauce if it doesn't seem to be thickening.

Server over some white rice and enjoy!
Nutrition
Calories:
410
kcal
|
Carbohydrates:
35
g
|
Protein:
28
g
|
Fat:
16
g
|
Saturated Fat:
4
g
|
Cholesterol:
68
mg
|
Sodium:
1698
mg
|
Potassium:
591
mg
|
Fiber:
1
g
|
Sugar:
30
g
|
Vitamin A:
134
IU
|
Vitamin C:
6
mg
|
Calcium:
73
mg
|
Iron:
3
mg
Chinese food on a gas grill? You better believe it! Give it a shot, my family was pleasantly surprised. I'm now inspired and looking for other "traditional" Chinese dishes I can grill. Got some inspiration? Leave a comment. I'll throw it on the grill and take some photos along the way…