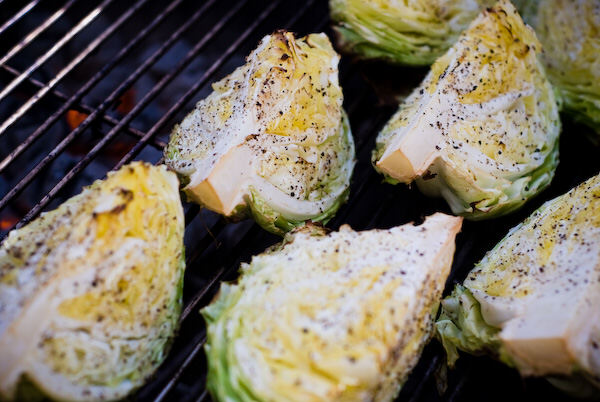 In honor of St. Patrick's Day this week, I wanted to grill some cabbage. If you haven't tried it before, grilled cabbage is pretty amazing. I know it sounds weird, but trust me, it turns out awesome. I prefer to leave the core intact when I am grilling my cabbage. Leaving the core in keeps the cabbage together and keeps you from having to chase leaves around the grill. The sky is the limit to seasoning and flavors, but I love the lemon taste from this recipe.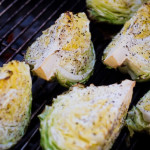 Print Recipe
Grilled Cabbage Recipe
Simple grilled cabbage recipe for a proper St. Patrick's Day meal.
Ingredients
3

tablespoons

lemon juice

2

tablespoons

olive oil

2

heads of green/white cabbage

1

pinch

Kosher salt

1

pinch

fresh ground black pepper
Instructions
Prepare the grill for indirect grilling. If you are using a charcoal grill, light a chimney full of coals and pile them all to one side once they have burned down enough to product white ash on the top coals. You gas grillers have it easy, just light half of your burners. We want the hot side really hot, to product between 350 and 400 degrees under the lid.

Remove the outer few leaves from each head of cabbage, wash thoroughly and then quarter the heads. Start with the bottom and cut through the core for your quarters so that the core of the cabbage holds each section together.

Place the cabbage sections on a pan (to minimize the mess) with the cut part facing up.

Thoroughly whisk together the lemon juice and oil.

Brush the lemon juice and oil mixture over each section of cabbage, letting the juice run down into the leaves.

Generously season each cabbage section with the Kosher salt and black pepper.

Keep the cabbage sections facing up so that the lemon juice doesn't leak out and then place the sections on the cool part of the grill.

Close the lid and let them roast on the grill for about 45 minutes, or until the tops have a little char and the inside leaves are nice and tender. You may want to move the cabbage around about halfway through your grilling session so that all of them spend their time closer to the fire. The bottom leaves may get burned, but they are being sacrificed for the greater good of the cabbage. Besides, I like the burnt leaves myself.
Nutrition
Calories:
178
kcal
|
Carbohydrates:
27
g
|
Protein:
6
g
|
Fat:
7
g
|
Saturated Fat:
1
g
|
Sodium:
92
mg
|
Potassium:
784
mg
|
Fiber:
11
g
|
Sugar:
15
g
|
Vitamin A:
446
IU
|
Vitamin C:
171
mg
|
Calcium:
182
mg
|
Iron:
2
mg
Give this recipe a shot.  Even my 5 year old was wanting more and we sometimes have a problem getting him to eat his veggies!