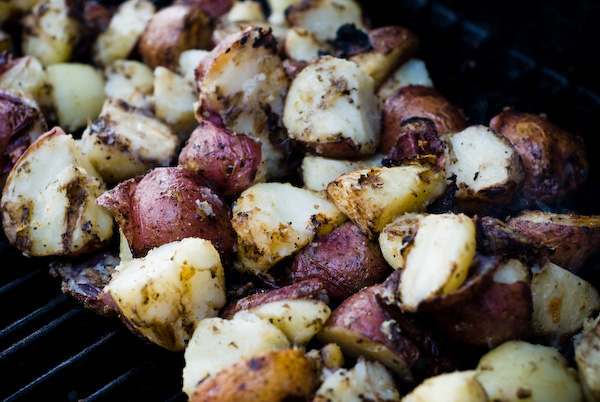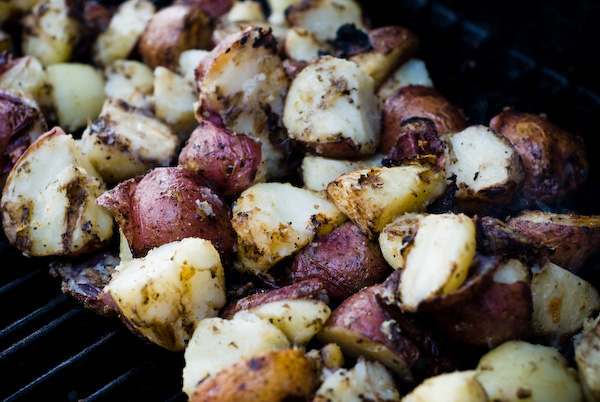 Grilled Potato Salad with Ranch and Bacon
September 1, 2009
Tired of the same old potato salad?  Maybe you are and like me, looked up a bunch of recipes that had more ingredients for the sauce than in the rest of the salad combined?  I tend to skip right past those recipes, especially if I waited until the last minute (again) to try and plan a side dish.  You see for me, side dishes are often times an after-thought.  Most of the time I rely on my wife or guests to provide, but they don't always come through in the end.  In those particular situations, I want a side dish that is easy and tasty.  No one cares how long it took you to prepare the meal.  They just care about the results!  That's why I love this recipe, the bottled Ranch dressing saves me so much time and I can grill the red potatoes right next to whatever meat I am preparing.  Ranch dressing from a bottle?  If you read or thought that sentence and turned your nose up, then move along to the next site.  That's right, I am using bottled salad dressing for this potato salad and I am proud of it!  I have a few more labor intensive recipes to share later, we're talking last minute today and that includes bottled dressing.
Directions
1What goes better with potatoes and Ranch than bacon?  Not many things.  Start by cooking about 8 strips of bacon using your favorite method.  We want them to be crisp since we are going to crumble the bacon into our salad.
2While the bacon is cooking, wash and then cut the potatoes into even quarters.  When I say even quarters, I mean you want all of the pieces to be about the same size so that they all cook evenly.  Don't make them too small thought because they will be a pain to handle on the grill!
3Boil the potatoes in a pot of water until just about cooked.  You don't want them too mushy, but you want them just about cooked all the way through.
4At this point, go ahead and light the grill and preheat to medium-high.
5Remove the potatoes from the water and drain.
6Toss the red potatoes in some olive oil and fresh ground black pepper.
7Pour the potatoes right onto the now hot grate of the grill.  The point here is to mark or char the potatoes so that we get that great grill taste.
8Using tongs, a spoon or a spatula (bring them all out, one might work better than others depending on the size of your red potatoes) turn the potatoes every few minutes to create char marks on all sides.  Keeping the grill closed will speed up this process and keep the grill hot.
9Once all sides of the potatoes are marked with grill marks, transfer the potatoes to a large bowl.
10Add about 1/4 cup of the Ranch dressing (add more if you like), crumbled bacon and chopped green onions.
11Stir well to combine.
That's all there is to a great last minute grilled potato salad! The grilled bits from the potatoes adds a great flavor to this recipe.  The Ranch dressing makes it easy to throw together at the last minute.  The hardest part to this recipe, in my opinion, is cooking the bacon.  I'd say try bacon bits, but I've got to draw the line somewhere.  Bacon bits to me aren't nearly the same as real bacon.  Not saying I wouldn't try it if I were in a pinch though...
0 Reviews