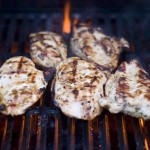 Print Recipe
Grilled Chicken Fajitas
Whenever I see fajitas on a menu, I can't help but think back to the very first time my Dad ordered them in a restaurant.  It was at Chili's, back when they first opened and my Dad said "I want to try some of them fuh-gee-tahs".  Still cracks me up to this day, especially since he still pronounces them wrong... Here's a great recipe from contributor Bill Mitchell from Atlanta.
1 1/2 Lbs boneless, skinless chicken breast

Fresh ground black pepper

1 Medium Onion, Sliced

1/4 Cups Vegetable Oil

1 Green Bell Peppers, Sliced

3 Tablespoons Lemon Juice

1 Red Bell Peppers, Sliced

1 Clove Garlic, Minced

Flour Tortillas

1 Teaspoon Ground Cumin

1 Teaspoon Blackened Seasoning

1 Teaspoon Garlic Powder

1 Teaspoon Onion Powder

1 Lime, Juiced, For Topping

Sour Cream

Salsa

Guacamole

1 Teaspoon Chili Oil

Cheddar Cheese, Shredded

Salt, To Taste
Marinate the Chicken
In a heavy duty resealable plastic bag, combine 2 tablespoons of the vegetable oil, lemon juice, garlic, cumin, garlic powder, onion powder, chili oil, blackened seasoning, salt, pepper and chicken.

Seal and toss the bag around to coat.

Marinate in the refrigerator for at least 2 hours.
Grill the Chicken
Pre-soak "Mesquite" wood chips for 30 minutes.

Setup the grill for both direct and indirect grilling, by placing coals to one side of the grill.

Place chicken directly over coals for about 3-4 minutes each side until seared.

Move to other side of the grill, toss in a handful of wood chips and close the lid.  Replenish the wood chips after about ten minutes.

After 20-30 minutes the chicken should be done.

Let rest for 10 minutes and then slice the chicken into strips.
Assemble and Serve
Serve on Cast Iron Servers. Why, because they are cool!  Preheat your cast iron servers in a preheated 400 degree F oven for at least 20 minutes, to get a good sizzle when you plate the fajitas.

Wrap the tortillas in foil and warm them in the oven with the cast iron servers for 15 minutes.

When you are ready to serve, remove the cast iron servers from the oven and quickly arrange the meat and peppers and onions on the servers. The meat and veggies will immediately start to sizzle from their fat and moisture. Serve sizzling immediately with the warm tortillas and other accompaniments and enjoy!