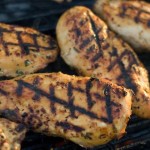 Print Recipe
Thai Chicken on the Grill
I never knew I had a "thing" for coconut milk until the first time I sat down in a Thai restaurant.  The person I was with was from Thailand and she suggested I start with Red curry chicken, which is a Thai chicken dish of red curry, coconut milk and some form of magical "you can't ever eat enough of this" Thai pixie dust.  Just the smell of this Thai chicken marinade almost brought me back to that first encounter, almost.  I'm still adjusting the flavors here, so let me know in the comments if you have any suggestions.  The marinade is pretty easy to throw together with stuff I usually have on hand, which is another huge bonus. Throw this Thai chicken marinade together in the morning, let it soak all afternoon and then fire up the grill in the evening.  The anticipation will be enough to drive you crazy all day after you get a whiff of this marinade.
2 lbs. Boneless, skinless chicken breasts

1 tablespoon lemongrass paste

6 garlic cloves, minced

1 tablespoon sugar

1/2 cup coconut milk

2 tablespoons soy sauce

2 tablespoons fish sauce

1 inch fresh ginger, minced

1/2 of a bunch of cilantro, minced
Mix the marinade ingredients together in a bowl.

Place the chicken breasts in a Ziplock bag and pour in the marinade.

Seal the bag, squeezing out as much air as possible before completely sealing.

Place the bag in a refrigerator and marinate for 6 hours, turning the bag over halfway through.

Preheat the grill to  high heat and make sure you clean and lubricate the grates.  We don't want our Thai chicken to stick!

Once the grill is nice and hot, remove the chicken breasts from the marinade and place on the grill.

Grill the Thai marinated chicken for 6 - 8 minutes on the first side.

After 6 - 8 minutes, flip the  chicken breasts over to the other side and continue to grill for an additional 6 - 8 minutes, or until they reach an internal temperature of 160 degrees.